City Index
City Index | 年に設立 England, 1983 | 規制当局 FCA, ASIC, and MAS
長所
One of the longest established brokers, with a history dating back to 1983 and over 140,000 traders
Regulated by the FCA in the UK, ASIC in Australia, MAS in Singapore and in the UAE by the UAE Central Bank
Multiple account types to suit all trader profiles
短所
City Index does not allow scalping on its platform so not suited to traders who employ this strategy
No bonus offers or promotions offered to new or loyal traders
Localised support limited in some of the smaller territories in which City Index operates
出金オプション
Debit card: Visa, MasterCard, Maestro and Electron
Credit card: Visa, MasterCard
Bank Transfer
Review
はじめに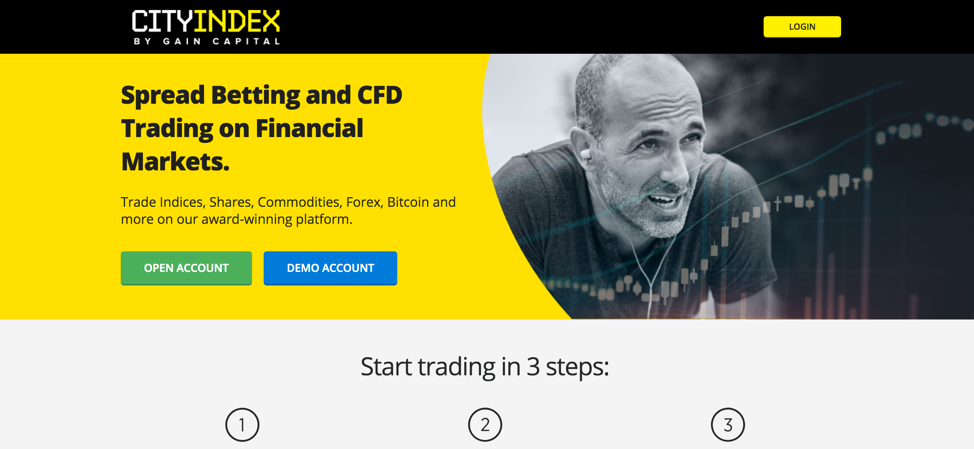 Originally founded all the way back in 1983, in the City of London, City Index is one of the oldest retail-facing CFDs brokers in the world, having been in business for 35 years now and comfortably pre-dating the online era. Over 12,000 markets can be traded through City Index, with the broker offering CFDs, forex trading and, in the UK, spread betting.
City Index started out as a spread betting broker before introducing CFDs in 2001. In 2006 the broker expanded by opening offices in Sydney, Singapore and Shanghai, servicing the Asia Pacific region, and its UAE office was opened in 2014. It is regulated by the FCA in the UK, ASIC in Australia, MAS in Singapore and the UAE Central Bank in the UAE. The broker also operates across the rest of the EU and EEA through the MiFID financial passporting system.
In 1997, Michael Spencer acquired City Index from its original founders and owned the company until 2014 when it was sold to GAIN Capital, a financial services company based in Bedminster in the USA.
Over the 50 countries that City Index is able to accept traders from, over 2 million trades a month are executed by over 150,000 traders. As well as English the trading platforms and broader set of service and functionalities are available in Spanish, German, Polish, Arabic and Chinese.
City Index is arguably the most experienced retail-facing electronic trading platform provider for CFDs in the world. As such it should come as no surprise that the company offers an excellent trading environment with intuitive trading interface, several trading platform options and represents a hugely usable introduction to beginner traders as well as the sophistication demanded by more experienced, higher value traders.
City Index has won a significant number of awards over the years for the standard of its product and service. Some of the most recent notable recognitions are:
Best Spread Betting Platform 2017 by ADVFN & Best Spread Betting Provider at the Shares Awards 2017
Best CDF Provider, Best Mobile App and Best Cryptocurrency Trading Platform at the Online Personal Wealth Awards 2018
Best MT4 Broker at the UK Forex Awards 2017
取引条件
City Index has not remained in business for 35 years as one of the most popular CFDs, forex and spread betting brokers in the world by providing traders with a low quality trading environment and conditions. Boasting some of the best trading infrastructure technology on the market, one of City Index's key advantages is that execution speed is not compromised during peak periods such as when major financial market news breaks. Slippage is extremely rare and the broker actually allows traders to set the level of slippage they are willing to accept on a per instrument basis if the market moves before their order can be fulfilled. Leverage and margin facilities offered meet maximum levels for retail traders applied by regulators for major asset classes and drops to 5:1 for individual equities and 2:1 for cryptocurrencies. Leverage and margin facilities vary depending on account type. City Index does not offer bonuses, which are forbidden by the FCA, with the restriction applied across all of the territories in which the broker operates.
City Index offers a variety of account types starting from a practice demo account offering simulated trading that doesn't require that the user deposits any funds. Trader accounts start with a minimum deposit of just $100 or the equivalent in other major currencies and offer micro lots for small stakes trading as well as mini and standard lots. The account is suitable for beginner to experienced traders. A Premium Trader account is by invitation only and comes with a dedicated relationship manager, broker assisted dealing and invitation to special events. Finally, a Professional Trader account offers margin rates from as low as 0.25%, credit facilities, a relationship manager, and access to advanced professional level trading platforms. This account is suited to only experienced, higher stake traders.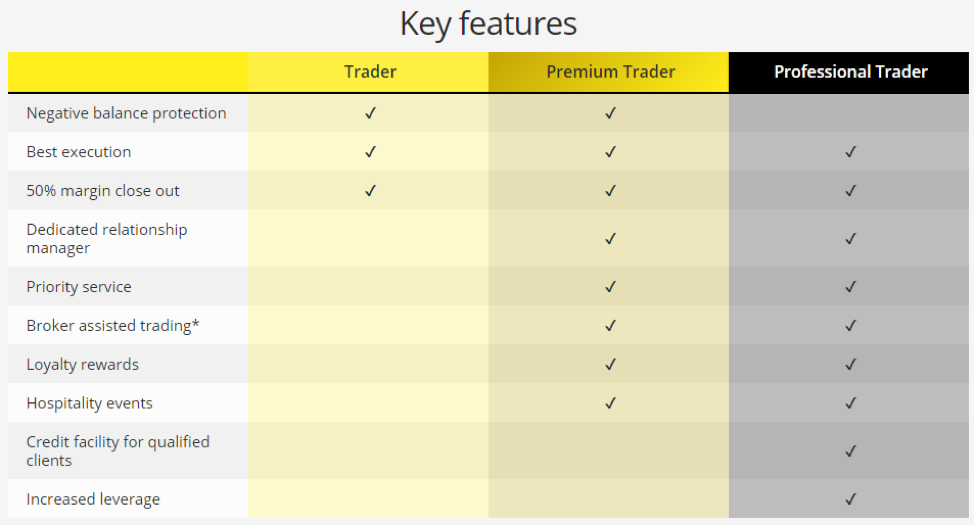 商品
City Index offers one of the broadest ranges of tradable markets available to retail traders anywhere in the world. There are over 12,000 in total across forex, indices, shares, commodities and cryptocurrencies. ETFs, Penny Stocks and IPOs are all asset classes available to trade. Over 84 different forex pairs in total.


規制
City Index is a trading name of GAIN Capital UK Limited. The company's Head and Registered Office is Park House, 16 Finsbury Circus, London, EC2M 7EB. GAIN Capital UK Ltd is a company registered in England and Wales, company no.1761813. Authorised by the Financial Conduct Authority. FCA No. 113942. Vat no.1761813.
プラットフォーム
City Index offers a choice of several desktop platforms as well as mobile trading, which is covered in the following section. As well as the industry standard MT4 trading platform traders can also opt for City Index's own custom 'Web Trader', a browser-based platform developed in-house. Finally, more advanced traders have the AT Pro platform, a professional trader-level piece of software that comes with an additional range of 'powerful analysis tools'. MT4 and AT Pro are both downloadable desktop clients.
Newbie traders will find the Web Trader platform the easiest to get to grips with initially but it is also perhaps worth making the extra effort to gain experience with MT4. As the industry standard it is offered by pretty much every serious broker and a trader being comfortable using it can be compared to the advantage of being able to drive a car with a gear stick even if you normally drive an automatic.
A range of tools are provided across platforms such as a customised charting package that comes with:
65+ technical indicators
'Deal through' charts
Multiple chart types and customisable layouts
Drawing tools
Market comparison
There are also a rich variety of in-trade execution options which provide a trader with impressive flexibility and control.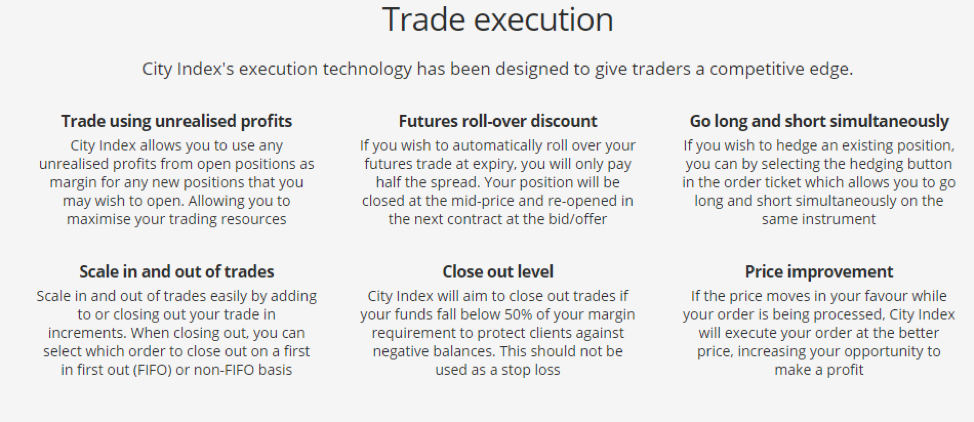 City Index offers its platforms in English, French, German, Polish, Chinese and Arabic language format.
モバイル取引
City Index's mobile offering is particularly rich. As well as the Android and iOS app versions of MT4, traders can also use the 'Advantage' trading apps on Android or iOS devices. These are the app versions of Web Trader platform. All mobile apps are native rather than browser-based, high performance and facilitate comfortable trading on the go, including charting and other tools available via the desktop options. The quality of the Advantage app was recognised by the award of 'Best Mobile application' at the 2018 Online Personal Wealth Awards.
価格
City Index is known as one of the most competitively priced retail-facing online brokers and also places an emphasis on transparency. There is no trader reports of the kind of significant widening of spreads during peak trading times such as when critical market news breaks that can often blight less well run brokers. Key pricing points include:
Fixed and variable spreads offered
Retail margins start from 3.33%
Benchmark UK financing (for positions held overnight) is LIBOR +/-2.5%
For EUR/USD CFDs the minimum spread offered is 0.5% and the average spread 0.69% based on the time-weighted average from all quotes over the first quarter of 2017. Margin starts from 3.33% for major forex pairs. For GBP/USD, the minimum spread is 0.9% and average spread 1.2%. Major indices are traded at a 1 to 1.6% fixed spread and individual equities at market rates, passed through via an ECN. Bitcoin/$ spreads start at $40 at a 50% margin rate and overnight financing at 0.08%.
The full list of pricing offered by City Index can be found on the broker's website
入出金
Deposit and withdrawal options and reliability are, rightly, one of the most important elements to a broker's service for traders. Deposits and withdrawals can be made via bank transfer or major debit and credit card providers:
Debit card: Visa, MasterCard, Maestro and Electron
Credit card: Visa, MasterCard
Bank Transfer
The minimum deposit to fund an account is $100 or equivalent in other major currencies eg. £100 in the UK. No charges are applied to deposits by City Index though credit card providers may apply a charge to cash deposits made via their cards.
Withdrawals are also free of charge and the minimum withdrawal amount is $50 or equivalent in another base account currency. The maximum withdrawal that can be completed online in a single 24-hour period is $20,000. For larger withdrawals customer services should be contacted.
Card withdrawals take between 3 and 5 working days and domestic bank transfers 1-2 working days. City Index has a very strong reputation for timely, reliable withdrawals.
カスタマ-サポート
City Index offers customer support via chat, telephone and email, with customer service agents available 24/5, during hours that international financial markets are active. Those with a Premium or Pro Trader account have additional access to a personal client relationship manager. Support levels are well regarded by City Index traders and is provided in English, French, Polish, German, Arabic and Chinese.
リサーチ&教育
City Index offers a fairly extensive education and research resource including well-made videos and articles. These will be particularly useful for beginner to intermediate traders and cover the main topics of trading theory as well as asset class-specific materials. They can be used in combination with a very strong demo trading platform which is free to use.
In terms of market news and research, all account types offer access to a Reuters news feed and the research created by Faraday, a trading research company also owned by GAIN Capital, the parent company of which City Index is the trading brand.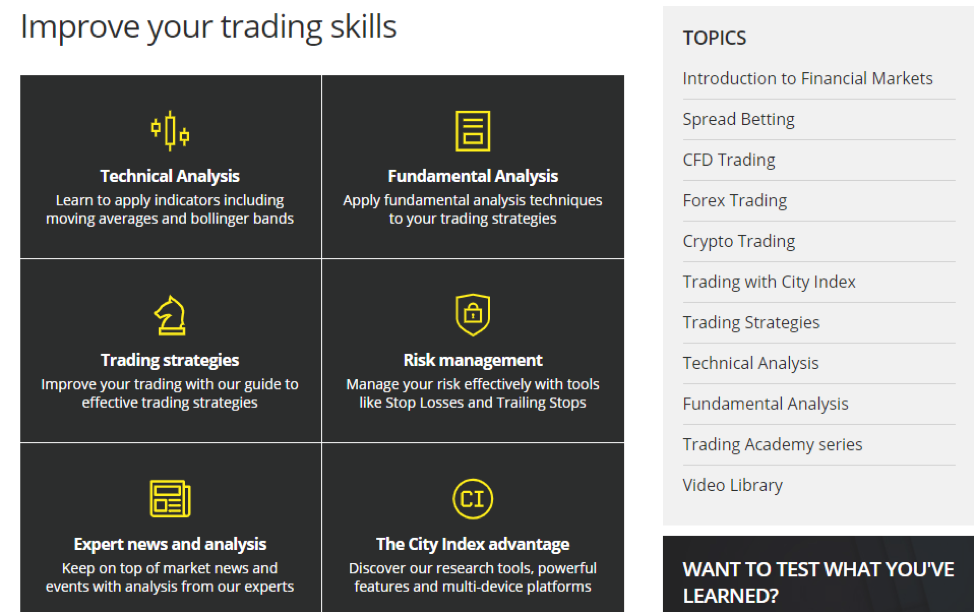 結論
It is hard to argue against an overall appraisal of City Index as one of the top handful of retail-facing online brokers available internationally. Parent company GAIN Capital is listed on the NYSE, with the company's public status offering additional security in terms of reputation and solidity of finances.
The service offered is to an extremely high quality both in terms of trading platform software and choices as well as pricing, trading conditions and customer service. Additional resources such as tools, research, education and news meet a high standard. A safe, quality bet for traders of all profiles from beginner to professional.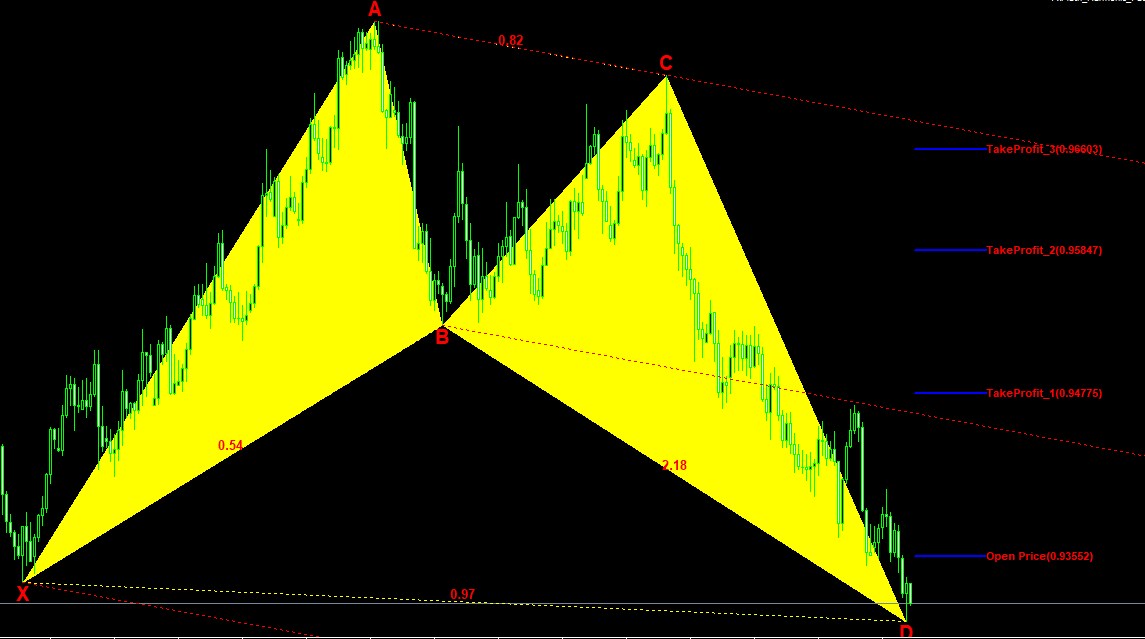 比較
Broker Comparison Maecenas porta rhoncus dui ut congue. Donec luctus non sem eu euismod. Ut rhoncus mauris non bibendum congue. Donec maximus ipsum a lectus sollicitudin.