ExpertOption
ExpertOption | 年に設立 St Vincent and the Grenadines, 2014 | 規制当局 FMRCC and VFSC
長所
Decent pay-out percentages (if accurate)
$1 minimum deal size
Variety of banking options
短所
No well-respected regulators
Short term options only
Limitation on number of employed options
最大レバレッジ
出金オプション
Wire transfer
Credit and Debit cards
Certain e-wallets
Local options
Review
はじめに
ExpertOption is mainly a broker for binary options that was set up in 2015, with their headquarters being located in Saint Vincent and the Grenadines. As they are an offshore broker, there are some concerns that traders will have about their offering.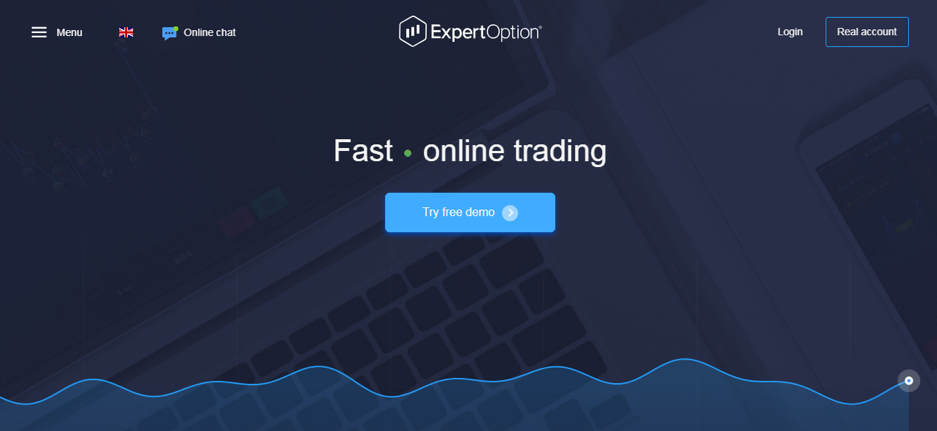 Sometimes the regulatory conditions are lenient, something that is not very conducive to people feeling confident entrusting significant funds to. Through their website, it says that they are currently regulated by the Vanuatu Financial Services Commission and their license number is 15014.
As they are not regulated by a well trusted authority like others in the space such as CySEC or the FCA, a lot of people will proceed with caution when it comes to ExpertOption.
取引条件
In terms of ExpertOption trading conditions, there is a minimum deal size of $1 in place which is one of the standout aspects of their offering. This gives traders the chance to have smaller options contracts and therefore mitigate their risk levels.
They have an extensive number of different trading signals that can be used which allows you to stay up to date with the latest movers and shakers. This allows you to identify potential opportunities or to give you warnings about areas to stay away from. Generally, you will be dealing with pay out percentages in the range of 70% to 90% according to their website.
They have five different account options for you to choose from. These are; Basic, Silver, Gold, Platinum and Exclusive. They each have their own minimum required deposits and there are limits on the max number of deals you can make with certain account types. There are also increased pay-out percentages for profits at the more exclusive membership levels.
商品
As a platform for digital options, all of the instruments available for you to trade are derivative products which gain value thanks to the underlying price of the asset.

As opposed to the likes of futures and CFDs, with these options, you will have a cap on the size of your gain or loss. They offer a multitude of currency pairs, shares, cryptocurrencies and commodity options. Generally, their expiry times lie between 1 and 15 minutes, which is very quick when compared to the rest of the industry.
A lot of notable areas of the world cannot use these trading instruments, including a lot of European nations, the USA and Australia.
規制
ExpertOption is located on the island of Saint Vincent and the Grenadines and they are currently given the approval to deal securities by the Republic of Vanuatu since the 6th of January 2017, with their license number being 15014.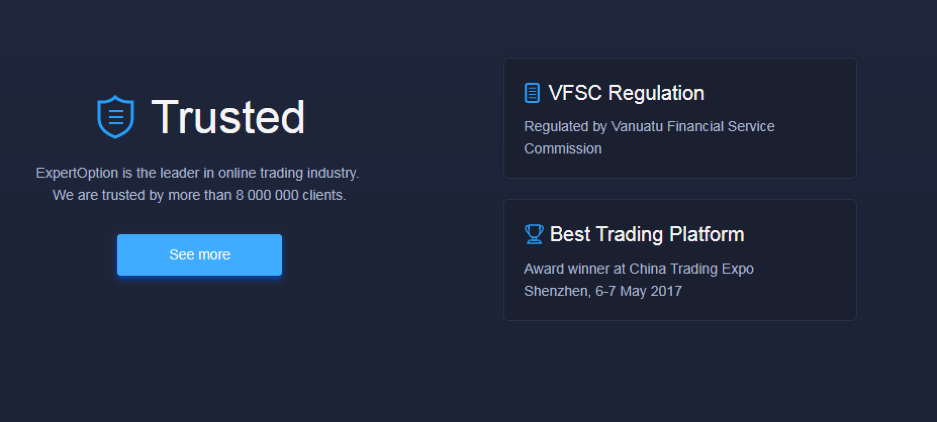 They are also part of a self-regulatory body known as the Financial Market Relations Regulations Centre. Their license number with this body is TSRF RU 0395 Vv0099. Neither of these bodies are a standard in the brokerage space, which is why there are some concerns from traders about signing up for this platform.
プラットフォーム
The trading platform used at ExpertOption is a proprietary software. It is solid and does the job. The charting capabilities are smooth and responsive, with the interface being nice and clean.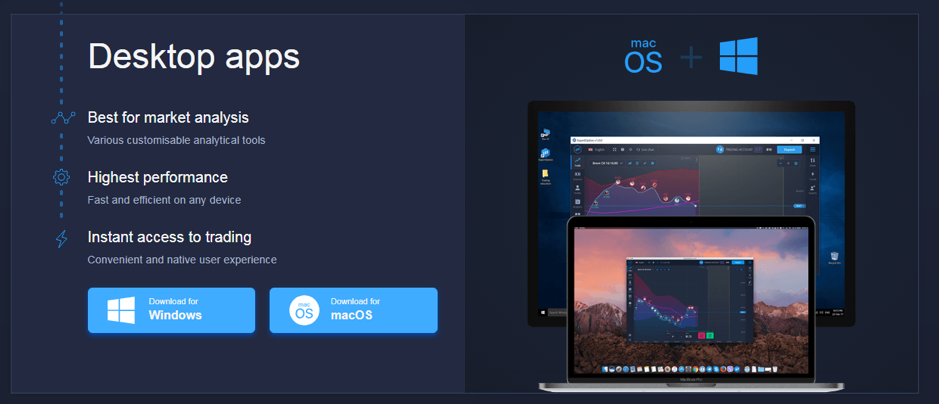 It is somewhat similar to some of the more straightforward proprietary software options you see in the space. There is somewhat a lack of analytical capabilities. There are limited options for technical indicators and charting. They do not get anywhere near the standards reached by the industry standard MetaTrader 4 platform.
モバイル取引
This proprietary trading platform is available on mobile versions. While the desktop version is somewhat limited in its capabilities, the mobile version is even more so. This is available to download for both Android and iOS devices.
You will not be doing much, if any, research or analysis through your mobile device. The main aspect you would be looking at would be the placing of trades or checking on your current positions by using this mobile version of the trading platform.
価格
With the ExpertOption offering, there are no commissions charged when you are making trades However, for each winning trade you have, there is a commission of $5 charged upon it.
They claim that they can have pay-outs as high as 95% for their clients, which is in comparison to the claimed 85% pay-out that is seen as an industry standard. As with anything, you need to take these figures with a pinch of salt.
入出金
There are plenty of different options available to you when it comes to making deposits and withdrawals. The most common option will be some sort of bank transfer or using a popular credit or debit card.
They also cater for a variety of e-wallets, such as Neteller, Webmoney and Skrill. They also have some local payment options depending now here you are located, particularly for their China-based customers. Withdrawals will normally take one or two working days in order to process and these funds will go to your linked bank account. However, there is a lot of obscurity around actually making withdrawals which is a cause of concern.
カスタマ-サポート
Customer support is always an important aspect of any offering, as you need to be confident that you will have any issues resolved if they happen to occur without a lot of hassle.
There are eight different languages catered for as part of their customer support. If you want to get in touch with a member of the team, you can do so on a 24/7 basis. You can do this through their live chat, by email or by giving them a phone call.
リサーチ&教育
There is a demo account option available as part of the ExpertOption offering. You can get virtual funds of $10,000 and use this to work on your skillset and to test out new strategies you may have.
In terms of other aspects of their education offering, they have concise guides on all different types of trading. This allows you to get a good overview of each of the main aspects of trading for your needs.
There is little to no news or commentary by market analysts found through the website. They do have indicators as part of their trading software, which will give you buy and sell signals on potential trades.
注目すべき点
This is an international offering, with the website catering for Arabic, Spanish, Chinese, Italian, Portuguese, English, Russians, German speakers. Their proprietary platform is very easy to use as the interface is clean and is not inundated with too many different options.
In terms of their reputation, it is lacking somewhat. This is due to not having a well-respected authority backing them. While this doesn't say that they are backed by a poor regulator, traders are usually a lot more comfortable with well-known authorities in Europe and the UK. There also have been some grumblings about the withdrawal process which is a concern.
結論
ExpertOption does have some positives going for it. They have a decent offering of options and have a minimum lot size of $1 which allows traders to somewhat mitigate their levels of risk. They have pay-out percentages which are generally very good compared to industry standards, but there are concerns about the processing of withdrawals.
They also are not licensed by any standout authorities, being based offshore. Therefore, this is a major sign that traders will stay away and look elsewhere for the offering. They are also somewhat limited in terms of their forms of analysis, which is another major drawback for experienced traders.
Therefore, ExpertOption may not be too high on the list of preferable options for binary options traders.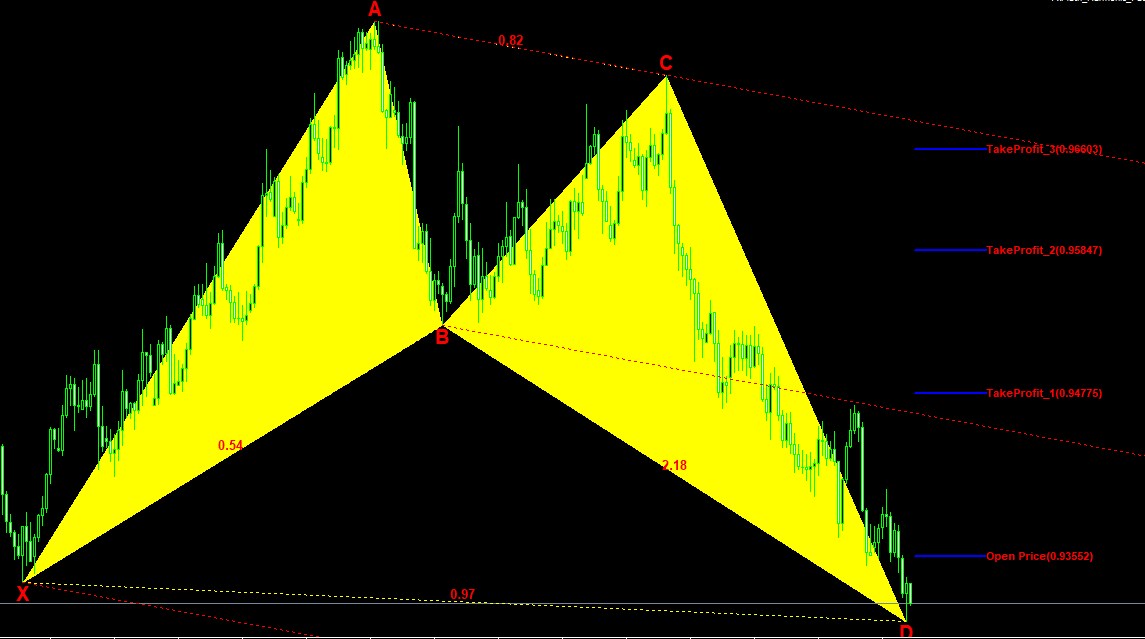 比較
Broker Comparison Maecenas porta rhoncus dui ut congue. Donec luctus non sem eu euismod. Ut rhoncus mauris non bibendum congue. Donec maximus ipsum a lectus sollicitudin.