GMO Trading
GMO Trading | 年に設立 Cyprus, 2017 | 規制当局 CySEC
長所
Regulated by CySEC
Wide variety of trading instruments
Traders funds are segregated in separate accounts
短所
Clients from USA, Canada, and Australia not accepted.
Spreads and commissions are relatively high.
High withdrawal charges
出金オプション
Visa
MasterCard
Skrill
Neteller
Bank Transfer
Review
はじめに
GMO Trading is owned and operated by Royal Forex Ltd; a Cypriot investment company based in Nicosia, Cyprus. The forex and CFD trading arm of the company (GMO Trading) began operations in 2017. Their operations are mainly within the European Union (EU) zone.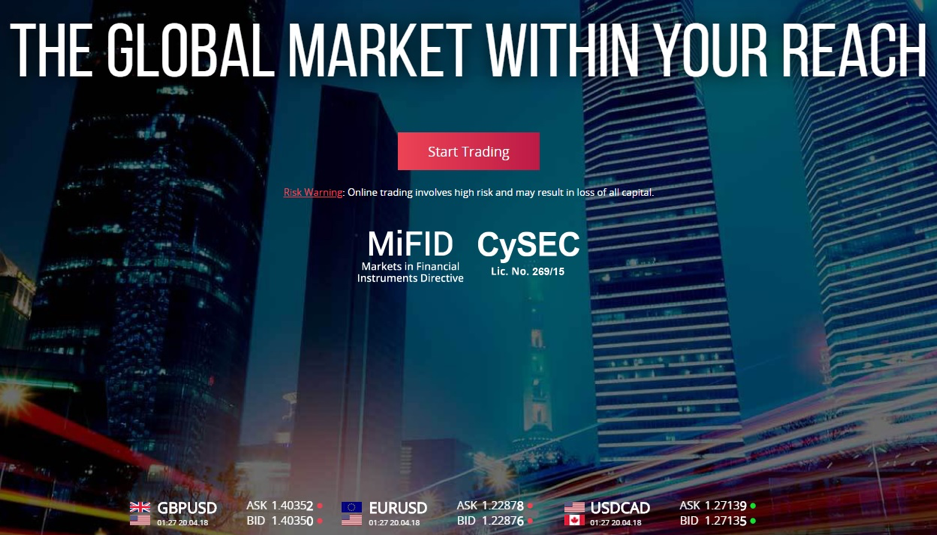 GMO Trading is still a very new broker and as such, are yet to win any awards. The official website (www.gmotrading.com) is very simple and easy to navigate. It is available in 7 languages namely: English, Italian, Russian, Polish, German, Spanish and Dutch.
取引条件
Three types of accounts are offered. These are Silver, Gold and Platinum accounts. No information is provided on the minimum amounts required to open each account type.
The lowest spreads are reserved for the Platinum account holders. For the EUR/USD currency pair, Silver account holders get a spread of 2.2, Gold accounts has 1.3 while Platinum account owners get spreads as low 0.7pips. A leverage of 1:400 can be obtained on forex trades from Platinum and Gold account types while Silver accounts get a maximum leverage of 1:200. Platinum account holders get free VPS, news alert and a swap discount of 50%. Gold account holders get a 25% swap discount while Silver account holders get none. There are no bonuses or promotions.
商品
GMO Trading asserts that their customers can trade top CFDs in over 10,000 global markets. Clients who wish to trade CFDs connect to exchanges all over the world to place their trades. There are 48 currency pairs, 17 world indices, and 17 commodities ranging from agricultural products, precious metals, crude oil etc are available for trading. About 50 US stocks and 31 European stocks are also available for trading.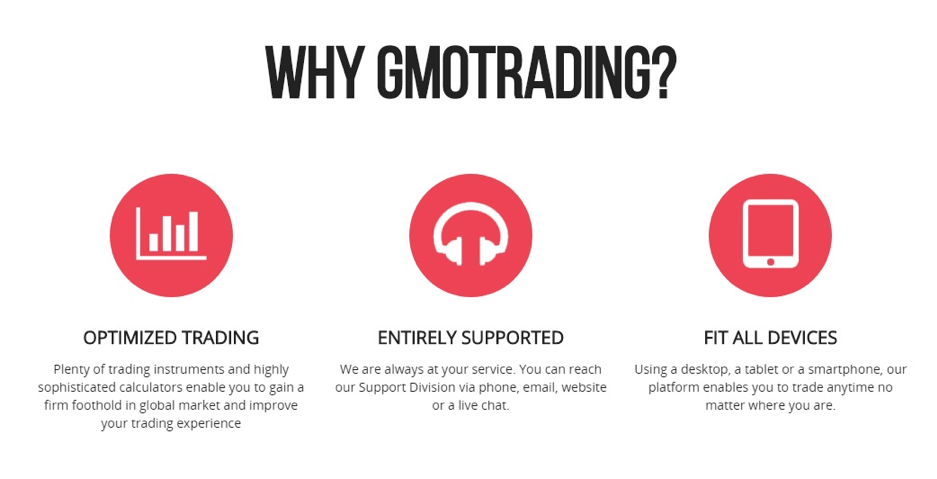 規制
GMO Trading is located in Cyprus and operates within Europe. GMO Trading belongs to Royal Forex Ltd with headquarters located at 2 Prodomou & Demetracopoulou, 4th Floor 1090, Nicosia, Cyprus. The company is regulated by the Cyprus Security and Exchange Commission (CySEC) with the license number 269/15.
プラットフォーム
The only trading platform available is the MT4. It is the most popular trading platform and it is well accepted among traders. It has tons of features suited for all level of traders. MT4 provides advanced charting, technical analysis, indicators, etc in several languages. It allows the usage of Expert Advisors (EAs) which automates trading. GMO Trading provides the MT4 for traders in the following forms:
Webtrader offers the MT4 platform online and it is accessible via a web browser. This is very convenient as it is available on every operating system and every device that has a web browser. No downloads or installations are required and the full features of MT4 are available.
This is the MT4 application that is downloadable and installable on a windows computer. It runs as a desktop application that works with the internet. MT4 provides multiple trading signals, market news, analysis and lots of other features. Execution of trades is fast and easy.
モバイル取引
The GMO Trading official website is optimized for mobile viewing. When tested with mobile devices, the menus, pictures and tables resized appropriately.
The mobile trading option available is the MT4 mobile application. This app is available on apple devices and on the android phone. The apps can be downloaded from their respective stores. With the MT4 apps on mobile devices, traders can open trades, create accounts, access technical analysis, charts and so much more.
価格
Just like other brokers, GMO Trading makes its money from the spread on price of assets. The currency pair EUR/USD offers the lowest spread which is as low as 0.7 on a 24-hour basis. The currency pair GBP/ILS offer the highest spread which is 55.1 between the hours of 9:00 and 18:00. The spreads offered by GMO Trading are generally high.
Inactivity fees are charged to customers who do not open or close trades within a 60 day period. It is charged at £80 per month and it is charged from the first month. So, after a 60 day dormant period, £160 is charged from the customer's account. After 91 days, the charge changes to £120 monthly and also changes to £200 after 181 days. After 301 days of inactivity, the fee changes to £500 per month.
Rollover fees are charged for accounts that hold open positions overnight.
A withdrawal fee of £50 is charged for every withdrawal above £100 and additional charges apply for withdrawals below £100. The charges are not explained but the customer will be informed first before the withdrawal is approved.
GMO Trading does not charge commissions. There are also ECN accounts for customers who prefer raw spreads.
入出金
GMO Trading offers a variety of payment methods.
a) The most popular debit/credit cards like Visa card, Mastercard, Maestro and Vpay are acceptable. Card payments are instantly processed.
b) Bank transfers are also acceptable but details were not given. Bank transfers take an average of 2 to 7 days to complete. Electronic wallet solutions like Neteller and Skrill are also accepted. These e-wallet payments are processed instantly but sometimes delayed for an hour or two. The providers usually charge a commission for every deposit or withdrawal. There are no localized payment options for residents in any country.
The minimum deposit accepted by GMO Trading is £100 and they do not charge deposit fees but they charge withdrawal fees. Specific details about each form of payment are not given.
Withdrawal processing is fast as it is processed on the same day if the request is made before 9am (GMT +2) or the next day if made after 9am. Few reviewers complained about delay in payments but most had their problems solved by the support team.
カスタマ-サポート
Prospective and existing traders can reach the customer care through a number of channels. The fastest is through telephone which is available on a 24/5 basis. Only two phone numbers from UK and Cyprus are available for support. The phone numbers are easy to reach and the support assistants are willing to help. The quality of the support was described as 'excellent' by many reviewers who testified to the good service they received.
There is a "Get in Touch" form available on the website where clients can fill out a form. Response is by email and usually within a day. There are also two email addresses for support through email.
Instant web chat facility is also available on the website and can be accessed from every page. Response is quick but not as efficient as phone support. Some reviewers reported of incompetence on the part of the chat support assistants.
Though the website does not feature a 'Frequently asked questions' (FAQ) section, there are MT4 tutorials to help a newbie to start trading on the mobile or desktop platform.
リサーチ&教育
GMO Trading provides trader education in form of eBooks, videos and tutorial courses. These tutorials are beneficial to beginner traders. Intermediate traders will most likely benefit too but advanced traders will not find the trainings useful. These trainings are all offered free of charge.
The trainings focus on introduction to forex, terminologies used, trading instruments and MT4 training. It also covers trading styles, strategies and analysis. There are lots of useful articles on a variety of topics like; investment options, cryptocurrencies, financial assets, trading methods, technical analysis, etc.
They also hold webinars from time to time. On the website, there are daily review videos posted everyday to assist a trader in making his trading decisions. The website also features an Economic Calendar.
注目すべき点
GMO Trading provides webinars and daily review videos to assist the trader in making decisions. Free VPS and news alerts are provided only for Platinum account holders. Generally, they are still very new and so have not yet penetrated the forex market. So, there are no awards or industry recognitions. There are no promotions or marketing adverts reported for this broker. Though some reviewers have complained of difficulty in withdrawals, CySEC has not investigated or sanctioned the GMO Trading brokerage firm.
結論
GMO Trading is a new broker regulated by CySEC and operates within the EU region. Being regulated by CySEC means that funds are segregated, secure and their platform is equally safe for transactions. They provide a comprehensive beginner and intermediate education in form of videos and EBooks.
The few drawbacks border on the withdrawal and spread charges, which are comparatively high. Also, the limitation of customers to just the Eurozone is going to hamper the global acceptability of the brand. One also wonders how this will allow it compete with other Cyprus-based brokers. Overall, they are a good platform suitable for beginner and mid-level traders, but need to deal with the issues raised.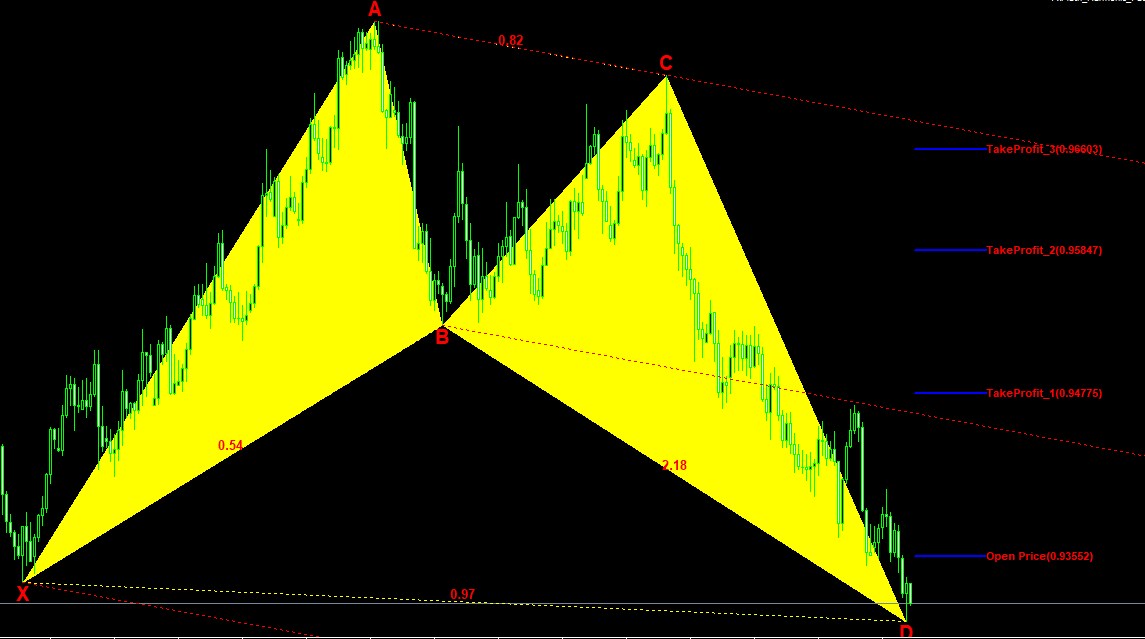 比較
Broker Comparison Maecenas porta rhoncus dui ut congue. Donec luctus non sem eu euismod. Ut rhoncus mauris non bibendum congue. Donec maximus ipsum a lectus sollicitudin.