Spreadex
Spreadex | 年に設立 England, 1999 | 規制当局 FCA
長所
Fixed spreads
Friendly usage of desktop and mobile platform
24-hour trade in FX markets
短所
No live chat service
No demo account
No MetaTrader
ボーナス
5% bonus on UK 100 winnings
出金オプション
Debit and credit cards
Wire transfer
Online bank transfer
Skrill
Review
はじめに
Spreadex started in the online spread betting business in 1999 in Dunstable Bedfordshire. The founder of Spreadex is Jonathan Hufford, who wanted to make the spread betting game more popular. In February 2008, the company's operating office shifted to a new place, which is St Albans, Hertfordshire.
By 2006, the company continued to go from strength to strength in the online sports betting world and the financial online trading platform. In May 2010, another product was introduced - a fixed odds sports betting service that enabled the investors to make an order in both fractional and decimal mode.
In May 2016, the company claimed that its turnover attained about 50.3 million pounds and its pre-tax profits reached 27.1 million pounds.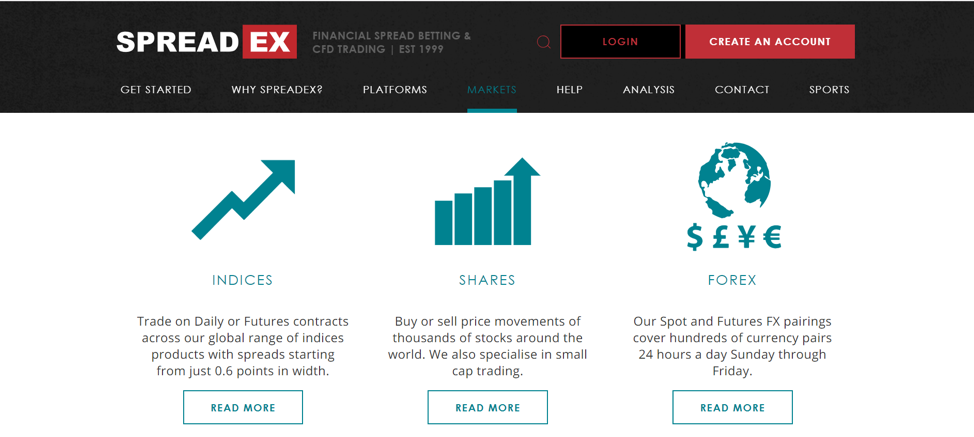 取引条件
A trader who is interested in opening an account on Spreadex just has to allocate a minimum of 1 pound deposit. The minimum trade size is set at just 10p, which makes Spreadex a desirable broker for the trader with limited income.
With Spreadex, you can apply one account for both sports and financial fields. Nevertheless, you have to pass several steps in order to open an account. You have to provide a copy of your passport, driving license or national ID, and also a bank statement of the last three months, which demonstrates your residential address.
商品
What makes Spreadex outstanding from other brokers is its broad scope of products. Traders of Spreadex can access more than 50 FX pairs and 15,000 instruments, containing ETFs, commodities, shares, options, and cryptocurrencies.
The traders can also use Spreadex to make spread betting on sports events. The traders can play in many sports fields, including F1, Cricket, Horse racing, Football Supremacy betting, NFL Super Challenge leaderboard, Darts, Golf, Rugby League & Union.
規制
Traders, in today's age, encounter many types of fraud and scams from dishonest brokers. Therefore, gaining trust from customers is the top priority of a broker. To do so, Spreadex decided to operate under the sphere of UK's Financial Conduct Authority (FCA), which has a responsibility to control the integrity of the financial market and monitor the conduct of companies that provide financial service.
The FCA assures that customers of Spreadex have their funds set apart from the company's operating capital through tier-1 banks.
プラットフォーム
Spreadex provides a friendly customized trading platform for the traders, with a platform presented in 2 formats: web-based browser and downloadable program.
A noteworthy feature of the platform is a highly customized design. You can easily observe data and news in the form that makes you feel the most comfortable. Besides, the platform has the Price Alert feature, which sends you a text message or email notifications when prices hit certain levels.
Some other features integrated into the trading tools:
Force Open Positions: you can make long and short positions at the same time by choosing "Force Open" on the trade ticket.
Scalping: a trading strategy which allows traders to get profits from small price changes.
Hedging: opening two or more positions with negative correlation with the aim of compensating your risks.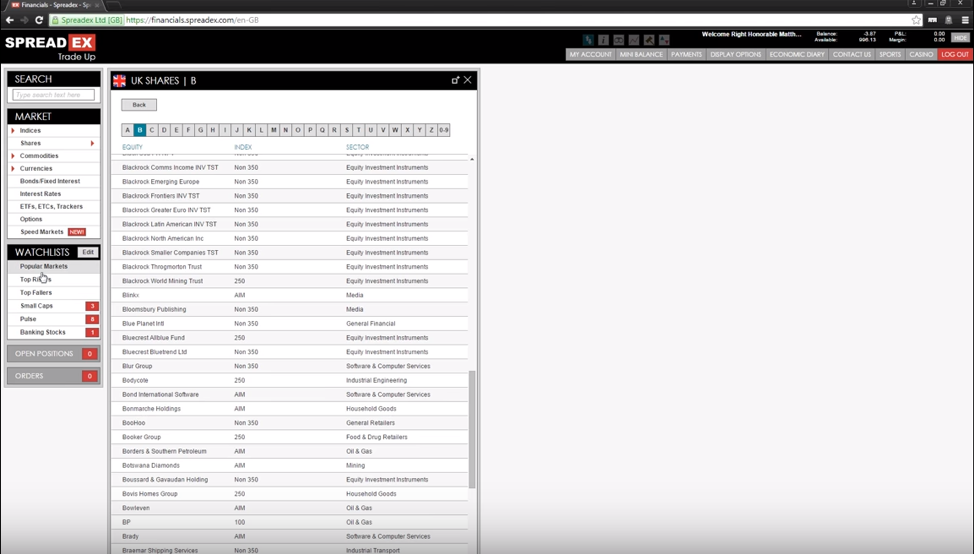 モバイル取引
Traders can use Spreadex platform via the Android and iOS mobile apps. Spreadex tries to enhance the user experience with the mobile platform. There are many features of desktop platforms that you can find on the mobile platform, such as depositing funds, establishing watch lists, opening trading history, editing orders or limits, and managing multiple trade types.

価格
Spreadex's spreads are fixed so you can grasp the true cost in advance of the trade regardless of the market turbulence. The broker offers attractive minimum spreads, compared to other brokers. For instance, the spread of EUR/USD is as low as 0.6 pips, which is lower than the average pricing of EUR/USD in the industry (approximately 0.82 pips).
Spreadex also introduces a leverage of 1:200. Nevertheless, trading with leverage can bring some hazards, so you should be careful.
入出金
In Spreadex, you have several options to make your deposit, including debit & credit cards, online bank transfer, Skrill and wire transfer. Spreadex applies no charge when you deposit the account through bank transfer or UK debit card. However, you have to pay 2% administration fee for credit card payments and 2.5% flat fee for card transactions. At the moment, you can not deposit into your account through E-wallets such as Neteller.
When you want to make direct withdrawals, you have to wait 2 business days via bank transfer or 5 business days via debit cards. Spreadex allows the minimum withdrawal of £50 and maximum card withdrawal of £25,000, except Master Card in which the maximum is set at £2500.
カスタマ-サポート
You can reach customer services at Spreadex 24 hours on 5 business days. There are many ways for you to contact their specialists:
Via phone:
Freephone: 0800 526 575
Landline: 01727895000
Overseas: +441727895000
Via email: [email protected]
Via direct address:
Freepost RRRS-GTPG-HGZB
Spreadex Ltd.
Churchill House
Upper Marlborough Road
St Albans
Hertfordshire
AL13UU.
However, Spreadex does not provide a live chat service for customers.
リサーチ&教育
Spreadex provides several ways to help new traders to get used to trading activities. Several guiding formats include a video training centre, Account FAQs, Charting FAQs, and Trading FAQs.
Additionally, you can also access multiple educational resources in the platform, such as tips, OddsChecker, charting guides, economic calendars, indicator explanations, Premier League Points video guides, and more.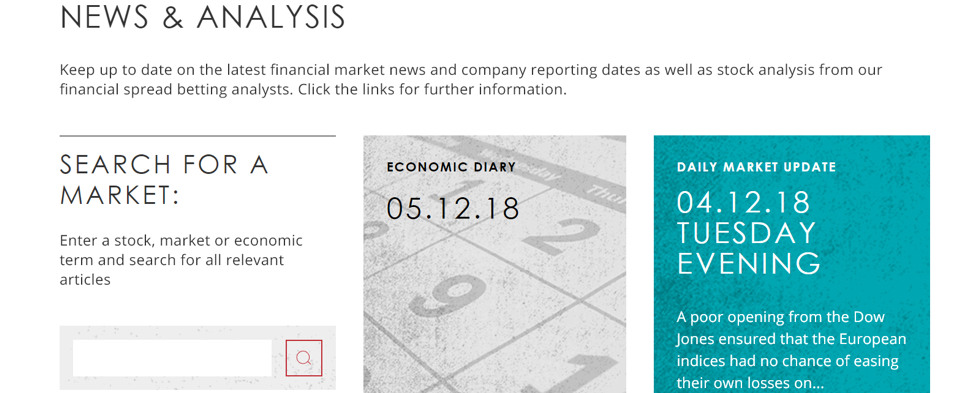 注目すべき点
In the competitive trading market, Spreadex has emerged as an outstanding broker with a strong reputation. It gained winning votes for Best Customer Service in "investment trends" awards 3 times in total and was nominated for best spread betting service at the Share awards and EGR awards in 2012. In addition, the broker is famous for providing a wide range of instruments, including commodities, FX, ETFs, indices, bonds and others.
結論
Spreadex has demonstrated that it is an excellent broker in the eyes of many traders. It is a friendly broker to both advanced and fresh traders with innovative platforms and an informative educational content plus a low minimum deposit requirement.
Another interesting feature about Spreadex is its quality customer service, which enlists a team of knowledgeable traders and always gives the customer attentive responses and support. Spreadex is extremely safe as it works under the FCA regulation and has never violated the customer protection policies. Spreadex is so secure that new customers have to go through several inspection steps and a rigid verification process in order to open an account with Spreadex.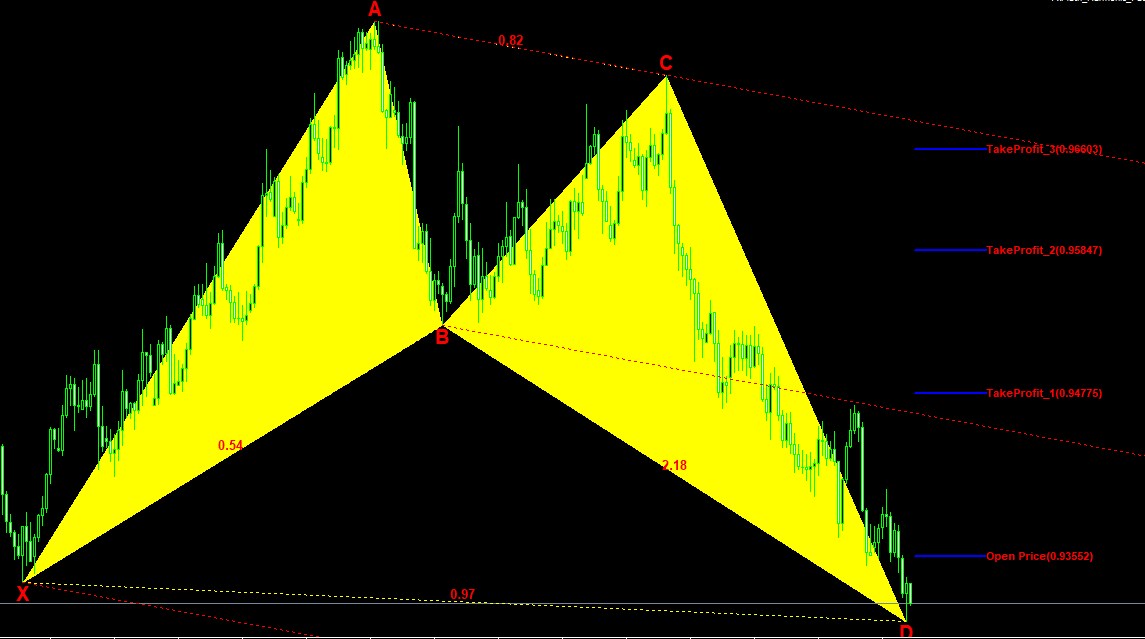 比較
Broker Comparison Maecenas porta rhoncus dui ut congue. Donec luctus non sem eu euismod. Ut rhoncus mauris non bibendum congue. Donec maximus ipsum a lectus sollicitudin.