Dukascopy
Dukascopy | Founded in Geneva, 1999 | Regulated by MiFID and FINMA
Pros
Very competitive costs
Top quality trading platforms
Leader in market news and research
Cons
Live chat can be a bit erratic
Not many deposit options
Withdrawal Options
Wire transfer
Credit cards
Debit cards
Review
Introduction
The Dukascopy trading platform launched in 1999 as part of Dukascopy Trading Technologies Corporation. The Swiss brokerage house aspect of the company was started in Geneva during 2004.
In 2010, the company obtained a banking license in Switzerland and then became operating as a bank as well. They are regulated in Europe as part of MiFID, as well as having the necessary Switzerland banking licenses.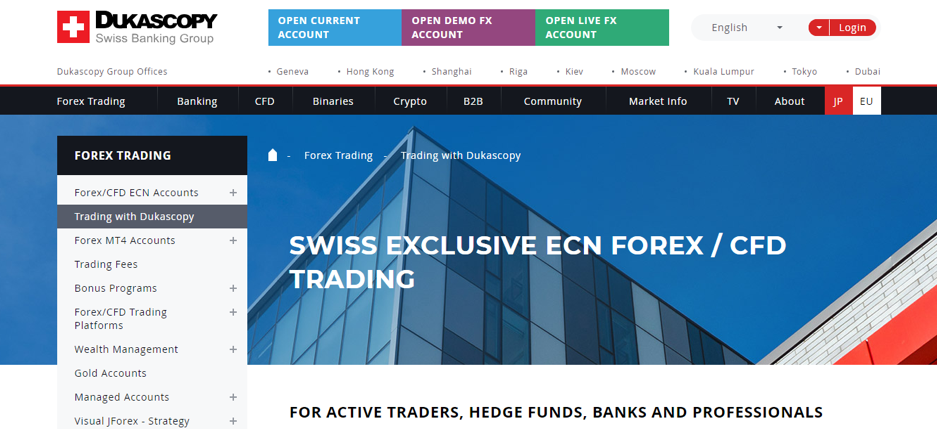 They also are registered in Asia thanks to their Type-1 licensed broker accreditation in Japan, which makes them part of the Financial Futures Association of Japan and therefore the Japanese Financial Services Authority looks after their regulatory framework.
Trading Conditions
Dukascopy has been constantly evolving over time. They started out as a trading platform and subsequently got a banking license. As a result of their combination of services, they have very fast execution speeds.
They are constantly changing the types of bonuses they have for their customers. They have a 10% bonus for self-trading equity accounts, they have a discount as high as 20% on volume trading commissions for those hitting certain volume target and they also have a referral scheme where you can get a discount on future trading commissions worth as much as $100. They offer both traditional trading accounts and ECN options as well.
Products
There is a diverse investment offering provided by the folks at Dukascopy. They offer you access to the Swiss FX and CFD marketplace, which gives you live listings of the prices of major currencies.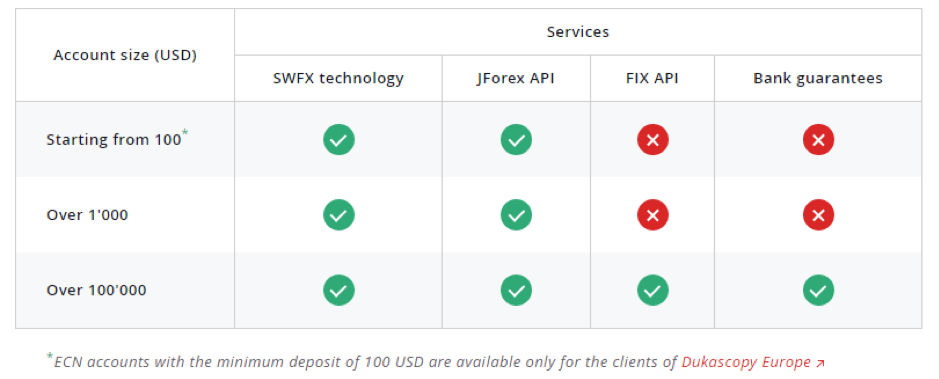 You also have access to other forms of precious metal and currency trading, whether you are an institutional or retail user. You can partake in all different kinds of trading, such as scalping. In total, there are more than 357 CFDs to choose from, but there are no ETFs on offer. They currently have more than 64 currency pairs to invest in.
Regulation
Dukascopy is an international business and they have offices in the likes of Dubai, Tokyo, Kuala Lumpur, Moscow, Kiev, Riga, Shanghai, Hong Kong and Geneva. They are extremely well regulated, being both a licensed broker as well as being a Swiss bank.
As a result of their EU brokerage license they got in Latvia, they are fully licensed in Europe by a respected authority. They also have a license for dealing in Asia thanks to their Type-1 license they got in Japan.
Platforms
There are a couple of different trading platforms you can choose from with Dukascopy. Their main platform is called JForex3, which is operational on all types of desktops. There is also support for the industry standard MetaTrader 4 platforms for those who are familiar and prefer to use this.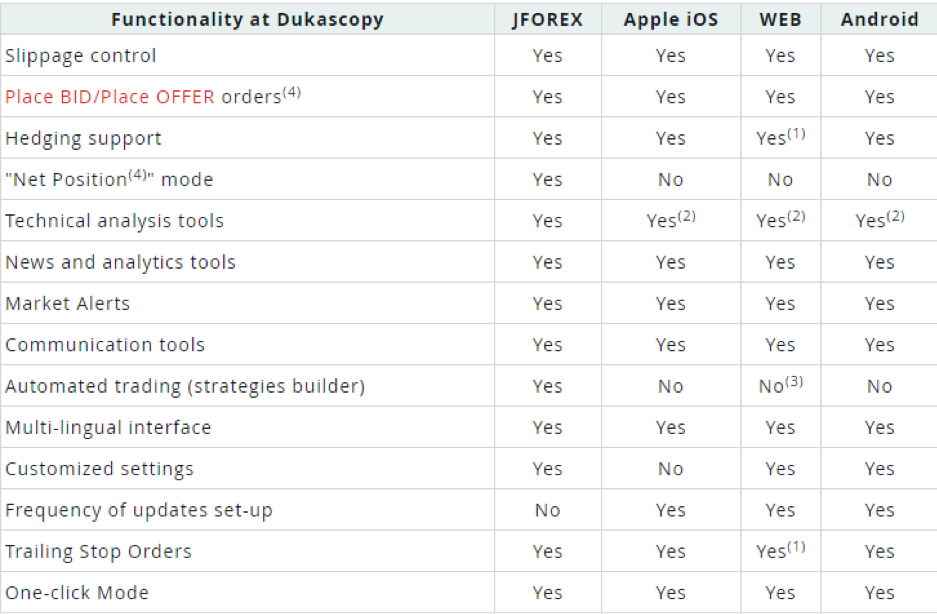 JForex 3 has a multitude of different trading tools available to you and they are easy to implement. It is an ideal platform for those technical traders, as they have 31 indicators to choose from.
It has support for things like cloud storage and algorithmic trading. They have more than 300 charting options, which is one of the best offerings in the industry in this regard. Overall, it is well-designed and easy to use as a trading platform.
Mobile Trading
Dukascopy has a number of different mobile apps for their offering. Each of these works well on both Android and iOS devices. There are a lot of premium features associated with the apps, which makes your experience a good one.
The charting capabilities are strong and you can easily customize your experience according to your preferences. There is almost 50 technical indicators available on the mobile app and you should have more than enough tools that you will ever need when trading through a mobile app.
Pricing
The spreads between the ECN and standard accounts are going to be the same with Dukascopy, with the difference being the additional commission rate. These will vary depending on how many trades you are making, your current balance and your net deposits.
For the EUR/USD as an example, the average spread on the platform is 0.32 pips. Its final all-in cost is around 1.02, which is standard enough in comparison to other platforms that utilize pricing based on commissions.
They offer competitive spreads, especially when it comes to those placing a lot of trades. It is one of the leaders in terms of overall costs for active trading or automated trading in the sector today.
Deposits & Withdrawals
With Dukascopy, you are able to add funds to your account by using a bank wire transfer, through credit cards, debit cards or a bank guarantee. The quickest way to add funds will be through a wire transfer and this takes about 1 or 2 working days to process.
The max you can deposit via a credit card or debit card is £7,000. There is usually a commission charged on card deposits, with those made through GBP, EUR or CHF having a 1.2% fee. The minimum required deposit varies pending on the type of account you are opening, with the smallest account having a minimum required deposit of $100.
Customer Support
You are able to get in touch with a member of the Dukascopy customer support team six days a week. You can do so either through giving them a call or sending an email. There is also chat support that you can use during the week at working hours.
They also give you the option to contact them using Skype so you don't have to pay expensive fees when ringing them through the phone. You can also request a call back from the customer support team if you prefer to use this method.
Overall, the standard of the customer support team at Dukascopy is decent, with most of your issues being resolved with minimal effort.
Research & Education
There is a series available to you of educational videos that will talk you through how to use their various platforms and accounts.
You also can gain access to regular live webinars in different languages. They often upload seminars that have taken place from across the globe. They also have 20 different stations on Dukascopy TV which have a wide array of different programing, both related to trading and to other niches.
There is also a massive array of research tools available to you through Dukascopy. You will be hard-pressed to find a better research offering elsewhere.
This includes consensus forecasts, a massive amount of indicators and other tools to help you with your overall trading experience. They have a staggering amount of daily market commentary and are one of the best news sources around for forex news.
Noteworthy Points
There are a number of interesting features that helps this offering to stand out from the others. They have a free VPS service and they have some of the best rates for frequent traders around.
They have a great reputation in the space, backed up by their regulators and as their stance as a Swiss bank. Their platforms are all very easy to use and cater to a massive array of languages.

Over the years, they have won numerous awards in the space. In 2018 they were voted as the best trading platform for mobile trading, as well as being voted as the best forex bank and the best forex ECN/STP broker.
Conclusion
Dukascopy really ticks a lot of boxes for traders, whether they are retail or institutional clients. They are particularly well suited to active and automated traders due to their competitive spreads and discounts of high volume trading.
They also have great bonuses and are one of the best regulated brokers in the space. They have a banking license, which allows for security and protection of funds to be a particular focus of theirs.
Dukascopy is a great fit for active investors, but also for those who like to keep up with market news and research on a regular basis.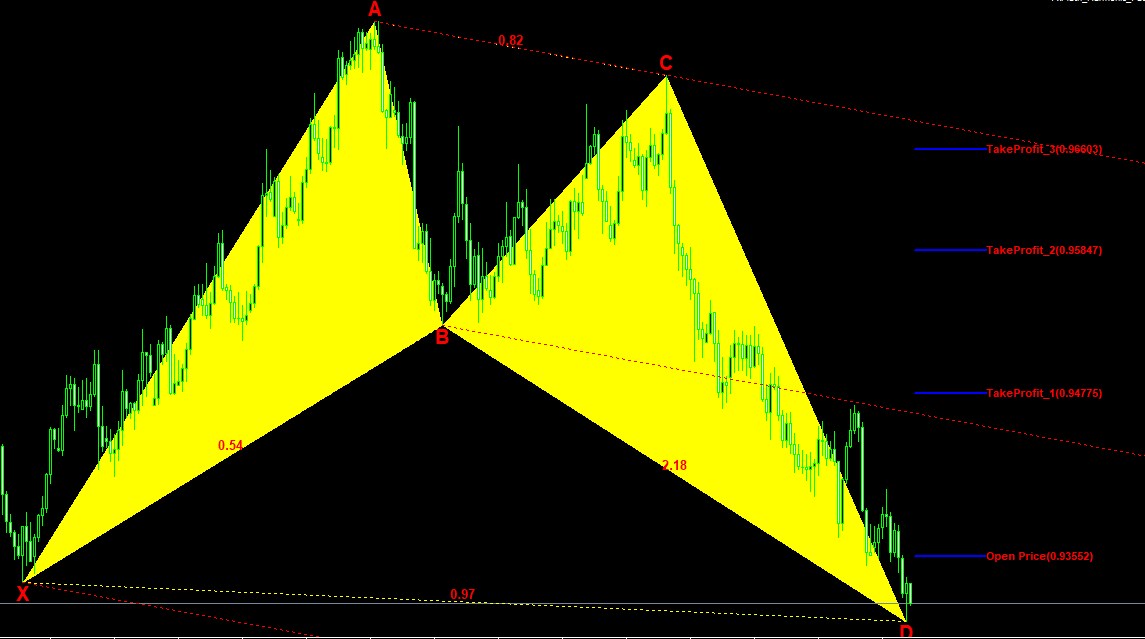 Comparison
Broker Comparison Maecenas porta rhoncus dui ut congue. Donec luctus non sem eu euismod. Ut rhoncus mauris non bibendum congue. Donec maximus ipsum a lectus sollicitudin.