FXCM
Broker
ForexBroker
0
5
3.8
FXCM
Forex Capital Markets Limited | Founded in USA, 1999 | Regulated by FCA, ASIC, FSCA
Pros
No minimum balance requirement
Excellent educational content
Extensive experience with forex
Cons
Limited market access without single-stock CFDs or cryptocurrencies
No emergency stop loss
Poor customization options
Withdrawal Options
Debit Card
Credit Card
Bank Wire
Skrill
Review
Introduction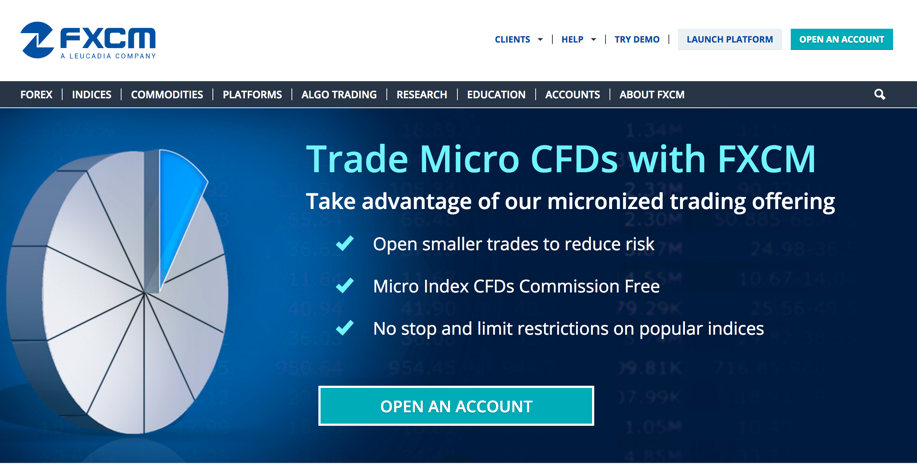 FXCM dates back to 1999, making it one of the earliest forex brokers. It was originally founded in the United States with its U.K. offices opening in 2003. As of 2007, the broker had 100,000 accounts. Despite originally opening in the U.S., FXCM is not currently available to U.S. clients, although it is available in a range of other markets worldwide. Since 2015, Leucadia has been the majority economic owner of the broker, adding to the platform's scale. FXCM is regulated by the FCA (Financial Conduct Authority) in the U.K., which includes default insurance of up to GBP 50,000 for FXCM and up to GBP 85,000 if the custodial bank fails. FXCM is also regulated by ASIC in Australia, and FSCA in South Africa.
With such a long history, FXCM has earned many awards. Some of the most recent ones include 4.8/5 Stars Overall in the ForexBrokers.com Annual Review 2018, FXEmpire 2017's Best Customer Support, and honors from Investment Trends that include Best Educational Materials for Financial Spread Betting, Forex, and CFDs plus Best Customer Service, Best Platform Features, and Best Value for Money for CFDs.
In addition to an international page in English or Spanish, there is a choice of 16 other regions/languages, some of which include multiple languages, such as the Hong Kong page that is available in either Chinese or English. This range of languages helps FXCM maintain its worldwide presence.
Because of the range of platforms offered by FXCM, there are options that are simple enough for beginners in addition to choices that have the features and tools experienced traders seek.
Trading Conditions
Trades are usually executed quickly without delays due to changes in the news. Leverage can be up to 400:1 for FX and up to 200:1 for CFDs. There are no deposit bonuses for FXCM Markets accounts, but there is a monthly 5-percent interest payment based on the usable margin.
There are two major types of accounts offered by FXCM, Standard Accounts with minimum deposits of $50 and Premium Accounts with a minimum of $20,000. You can also open an Islamic (interest-free) account by submitting a form. Individual self-traded clients cannot open Percent Allocated Money Management (PAMM) accounts, but these are available for referring and introducing brokers. Active traders with high volumes receive discounted pricing of up to 60 percent less on spreads, dedicated support, and institutional-derived trade ideas.
Products
FXCM offers a good selection of markets, but some other platforms do offer more. You can use FXCM to trade forex, cryptocurrency CFDs, indices, or gold. There is a total of 39 currency pairs available with FXCM, including majors and commodity pairs. While this selection is reasonable, it is somewhat disappointing for a broker that has specialized in forex since 1999; most other forex brokers have the same number of or more pairs. That being said, FXCM does offer the forex pairs that most traders will be interested in, so only advanced and professional traders are likely to feel the lack of choices. There are also 12 indices to choose from, seven commodities, the BUND treasury fund, and one cryptocurrency CFD, BTC/USD.
Regulation
The headquarters of the FXCM Group is in London, and Forex Capital Markets Limited (FXCM) is regulated and authorized by the Financial Conduct Authority in the U.K. with registration number 217689. It is also registered with Companies House in Wales and England with company number 04072877. FXCM Australia is regulated by the Australian Securities and Investments Commission with AFSL 309763 and CAN 121934432. In South Africa, FXCM is regulated by the Financial Sector Conduct Authority as an authorized Financial Services Provider with registration number 46534.
Platforms

FXCM offers one of the best selections of platforms for traders to choose from. Its flagship platform, Trading Station, is available as a web, desktop, or mobile platform, or you can use MetaTrader 4, NinjaTrader, or ZuluTrade. Trading Station is an FXCM proprietary platform and therefore not used by other brokers.
You can also use one of the specialty platforms that can be completely integrated, including Quantconnect, MotiveWave, AlgoTerminal, AgenaTrader, StrategyQuant, SierraCharts, SeerTrading, and NeuroShell Trader. These are all best for advanced traders due to the limited information available on their use.
The proprietary Trading Station platform has intuitive functionality with easy-to-use dynamic charts. The only issue with Trading Station is that it is built on Adobe Flash, which can lead to the need for Flash updates as well as some support issues. You also cannot use the research function within the platform, requiring traders to go between the platform and a browser. To make up for this, the platform is available in your choice of 14 languages.
Trading Station keeps up with the pre-loaded Marketscope, which is a free professional charting package allowing for a long list of indicators, up-to-date price alerts, and trading right from the chart. There are also Real Volume indicators pre-loaded. In addition to the Real Volume indicators, Trading Station from FXCM has other tools, such as those for drawing trend lines, using price overlays, and identifying Fibonacci levels. There are dozens of other tools as well, including automated strategies. To assist with these strategies, the platform includes equity and balance charts, trade histories, detailed performance summaries, and visual representations of the trades plus a strategy optimizer.
Mobile Trading
The mobile application is as easy to use as the web version of FXCM, which is complete with the option to bring dynamic charts to full screen for convenience. The only downside is a lack of customization in the applications, and there is no additional security, just the login password. You can use the mobile version of MT4 or download the mobile application for Trading Station for full functionality.
Pricing
Pricing with FXCM is reasonable, although not the best you will find. The average spread for EUR/USD is 1.3, and users can view an updated list of average spreads on the "Spread Costs" page. Keep in mind that these are averages, so the spread may be higher or lower at any given point. There is no Zero or ECN account that charges a commission, so all account holders with FXCM are charged spreads.
Deposits & Withdrawals
Deposits and withdrawals are both done via the MyFXCM account. Deposits by debit or credit card typically take 1 business day, although it can be less. A bank wire deposit can take 1 or 2 business days for domestic transfers and 3-5 business days for international ones. The minimum deposit for debit/credit cards is $50, with a maximum of $10,000 per transaction or up to $20,000 per calendar month. Deposits via Skrill typically arrive within a business day.
Withdrawals are completed via credit or debit cards or bank transfers. The amount you withdraw to a debit/credit card cannot exceed the amount originally deposited. After this, the rest must be withdrawn via bank transfer. Withdrawals via cards do not have fees, but there is a $40 fee for bank wire withdrawals. This also tends to be the quickest method, taking about 3-5 business days. Card withdrawals may take between 5 business days and a billing cycle.
Customer Support
Customer support is available over the phone, by email or through Live Chat 6 days a week, Sunday through Friday. There is also an extensive FAQ page with sections for general questions, various product info, and trading information covering the majority of the enquiries you may have.
There are abundant support resources online and on the FXCM website for ZuluTrade, MetaTrader 4, and NinjaTrader, as all three are used by numerous forex brokers. You will also find plenty of support for FXCM's Trading Station and forex trading in general in the education section. This includes trading guides, speakers, a video library, and a live classroom.
Research & Education
FXCM offers many tools for both research and education, each of which has its own dedicated section of the website. All these features are free for account holders to access. Some of the research tools include market news, charts, a market scanner, an economic calendar, market data signals, and trading signals. In terms of education, FXCM offers a live classroom, trading guides, speakers, and a video library. There are enough educational tools to give beginners a head start, particularly when combined with the demo account. The research tools and speakers can appeal to more experienced traders.
Noteworthy Points
FXCM was founded in the United States, but as of 2017, it left the U.S. market. This process involved existing holdings and U.S. clients being reorganized under Global Brokerage, a company with an ownership interest in FXCM. In late 2017, Global Brokerage filed for Chapter 11 bankruptcy, but FXCM Group is not involved. Other than the issues with former U.S. clients, FXCM has not faced any other investigations or issues in recent years. Overall, the platform is recognized for its support of over a dozen languages, ease of use, and strong reputation.
Conclusion
FXCM is one of the forex platforms with the longest histories, providing a reputation of reliability. It is regulated within multiple jurisdictions and offers users the choice of four core trading platforms plus eight specialty platforms. Apart from all those options, there are numerous advanced tools available. Even just the proprietary platform, Trading Station, has advanced features that set it apart. FXCM will be best for beginners to intermediate traders or experienced traders who do not feel limited by its relatively low number of forex pairs. Experienced traders who think FXCM has sufficient instruments will find no shortage of tools to help them with analysis and charting.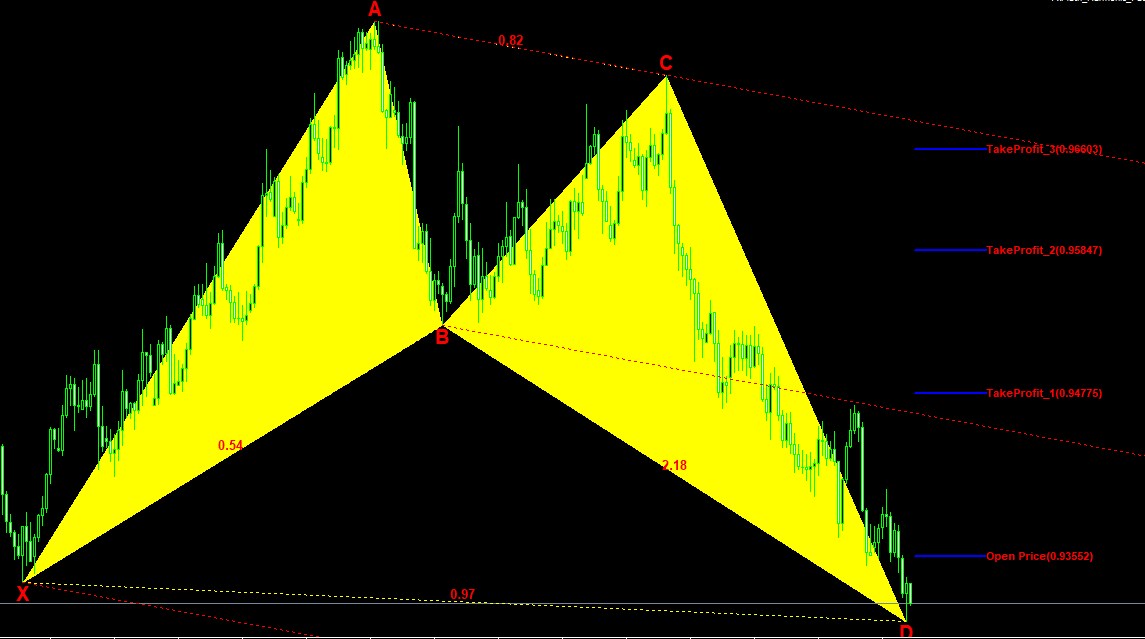 Comparison
Broker Comparison Maecenas porta rhoncus dui ut congue. Donec luctus non sem eu euismod. Ut rhoncus mauris non bibendum congue. Donec maximus ipsum a lectus sollicitudin.