IFC Markets
IFC Markets | Founded in Cyprus, 2006 | Regulated by CySEC
Pros
Brand name and integrity in the market
The abundance of educational material
500+ instruments to trade with
Cons
Outdated website design
No bonuses offered
Withdrawal Options
Skrill
QIWI
Neteller
OKPAY
credit cards
wire transfer
Review
Introduction
Having a reputable and well-respected brand name is a dream for many broker houses in the world of Forex trading, except for scam sites which are just trying to quickly strip people of their hard-earned money. Since IFCmakets operates in a highly transparent and reliable manner, it is evident that this brokerage house, which is a part of the IFCM Cyprus Limited group, puts a lot of effort into trying to provide their clients with a protected and pleasant trading environment. The IFCmarkets' history goes all the way back to 2006, and this brokerage is registered in British Virgin Islands (BVI) under the number 669838. Going through their website, we found several addresses for this global trading enterprise, but the most notable ones are the one in Limassol, Cyprus and the one in Tortola, British Virgin Islands.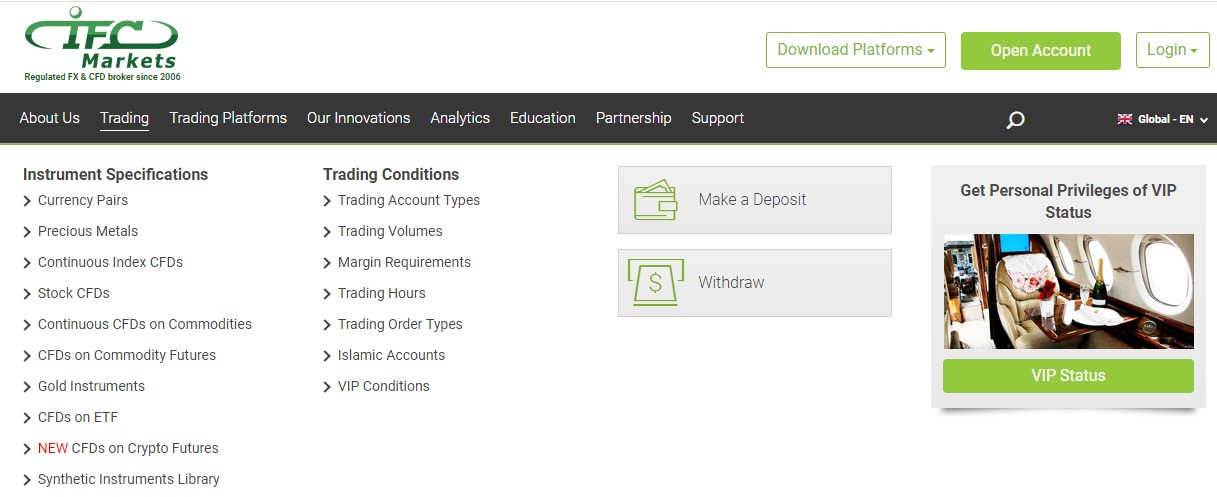 Trading Conditions
As we already said, IFCmarkets broker is a trading house which tries to provide an efficient and comfortable trading experience to all investors. Constant advancements and innovation is a trademark of this company, and that is why IFCmarkets offers highly competitive trading conditions. For example, they provide more than 500 instruments for trading, and their minimum spreads range from 1,4 to 1,8 pips. The average leverage that IFCmarkets offers is 1:200, and this can go up to 1:400. Base currencies are USD, EUR, and JPY.
Products
A wide range of assets and account types are awaiting those who decide to invest with IFCmarkets, and this brokerage can serve as a one-stop-shop for all your trading needs and preferences. In other words, you can trade with more than 40 currency pairs on their terminal, and IFCmarkets also offers CFDs for commodities, indices, and equities. Of course, there is also a host of educational materials for those who are just starting their journey through the turbulent waters of Forex trading. When it comes to the trading accounts, IFCmarkets will give you a choice between two account types on each of their two platforms. Basically, you can choose a Beginner or Standard account on NetTradeX, or Micro or Standard account on MetaTrader4. Also, IFCmarkets brokerage provides a Demo account, and there is also a swap-free Islamic account. Traders who deposit $50k or more will automatically be classified as VIPs, and their accounts will receive additional privileges and benefits.
Regulation
The IFCmarkets broker house would not survive for 12 years in the Forex trading arena if it did not follow the rules and regulations established by the governing bodies. It goes without saying that IFCmarkets is a regulated brokerage, and they are licensed with CySEC (Cyprus Securities and Exchange Commission) under the number 147/11. By being in compliance with CySEC's stern legislation, IFCmarkets proves that their activities and operations are not shady or malicious and that clients can feel safe and secure when investing in this financial enterprise. IFCmarkets is also following the rules stated by MiFID, which means that this brokerage respects the directives established by the European Commission.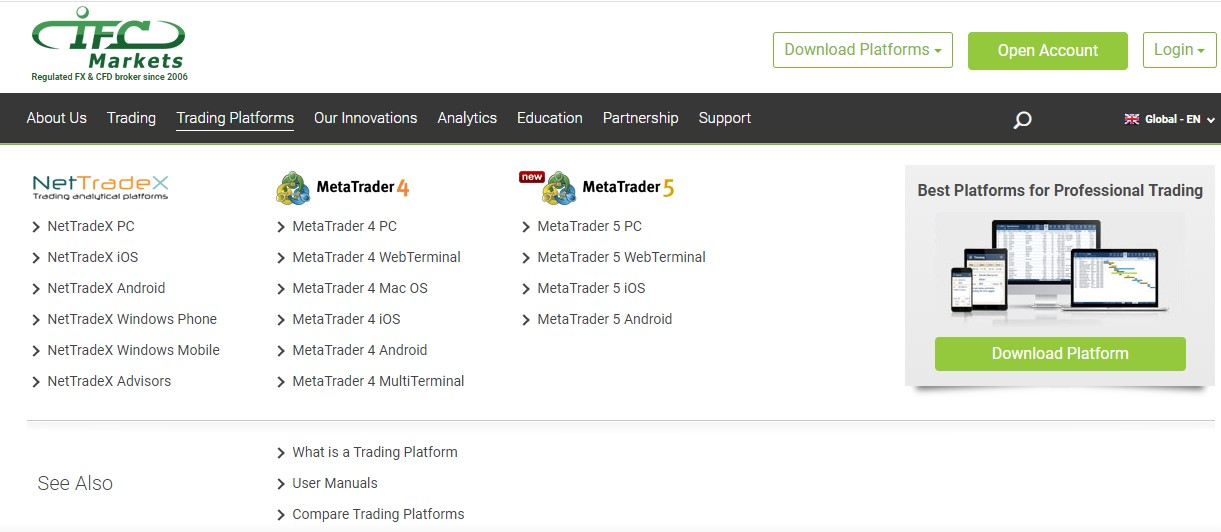 Platforms
Reliable and fully functional trading terminals are a must in today's online trading world, and that is why IFCmarkets offer two software solutions to their clients. One of them is their proprietary software called the NetTradeX, and the other one is the well-known MetaTrader4. Both of these packages offer top-notch services and features, and there have even been complaints from some investors that these platforms contain too many tools and indicators. However, IFCmarkets keeps enhancing the shape of their platforms, and traders nowadays have access to a variety of widgets, such as Market Sentiment, Live Quotes, Currency Converter, Live Price, and so on. Aside from trading signals and other technical tools, IFCmarkets has also recently introduced a new feature – the list of Top Gainers and Losers. All in all, their platforms are within the industry standard, and investors can easily customize the terminal to best suit their needs and trading preferences.
Mobile Trading
Modern-day trading cannot be imagined without mobile devices, and we all know that smartphones and similar gadgets are creeping into every little corner of our lives. IFCmarkets is aware of this fact, and that is why they come prepared. In other words, their MetaTrader4 software can be accessed on iOS and Android devices, as well as Windows Mobile. Traders can place trades, follow the market news, analyze charts and reports, and do everything else they need to do to make profits in a convenient and comfortable manner.
Pricing
IFCmarkets provides fixed and floating spreads, and they do not charge commission. They only charge the spread on top of the rates. However, there are some restrictions when dealing with account types on their platform. For instance, IFCmarkets only allows for $5k equity on Beginner and Micro accounts. Once your account exceeds this limit, you have to switch to Standard account or withdraw some of the funds to get below $3k. IFCmarkets offers 1:40 leverage for stocks and their usual spread for EUR/USD is 2 pips.
Deposits & Withdrawals
Since IFCmarkets guarantees total protection of your money through fund segregation procedures, clients can deposit their money without any fears or concerns. To do so, they can use a range of different channels, such as wire transfer, credit cards, Neteller, OKPAY, Skrill, Unistream, and so on. Deposits can be made free of charge while withdrawals may require a small fee, depending on the withdrawal method you choose. For example, there is a 2% commission on credit card transfers and the minimum amount for withdrawal is $10.

Customer Support
The reliability and quality of their customer support is a top priority for IFCmarkets, and this broker house provides their support service in 18 languages. Clients can contact their representatives via a multitude of ways, such as Skype, WhatsApp, Telegram, etc. Of course, the good old-fashioned e-mail and Live Chat services are available as well, and there is also a call back option integrated into the contact form on the website.
Research & Education
One of the most prominent features of IFCmarkets brokerage is their desire to educate and empower other investors. Top level educational materials are available to all traders who join IFCmarkets brokerage, and these materials include a daily Market Overview and Technical Analysis. Weekly analysis is available as well, but investors can also learn a lot from a bunch of text articles in the Innovation section. In addition to that, there are several other options which can help with expanding your knowledge and expertise, and these include FAQ section, Economic Calendar, and Margin Calculator, among others.
Noteworthy Points
In 2018, IFCmarkets have expanded their range of products and services by offering Bitcoin trading, and this is a move that received positive reviews from many investors. Cryptocurrencies are growing in popularity, and modern-day traders can now add these assets to their portfolios without ever leaving the IFCmarkets' website.
Conclusion
Since IFCmarkets operates in more than 60 countries and they allegedly have more than 120k clients, it is evident that this brokerage plays a fair game and that their services are well-respected and valued. Our IFCmarkets review has gone through all of the features of this enterprise, and we have given you a comprehensive overview of their services and products. As you could notice, IFCmarkets offers some unique features, but at the same time – they do not provide their clients with incentives and trading bonuses. Experienced traders will certainly say that bonuses are not necessary and that your trading skills determine the profits, which means that you should give IFCmarkets a try as soon as you get the chance.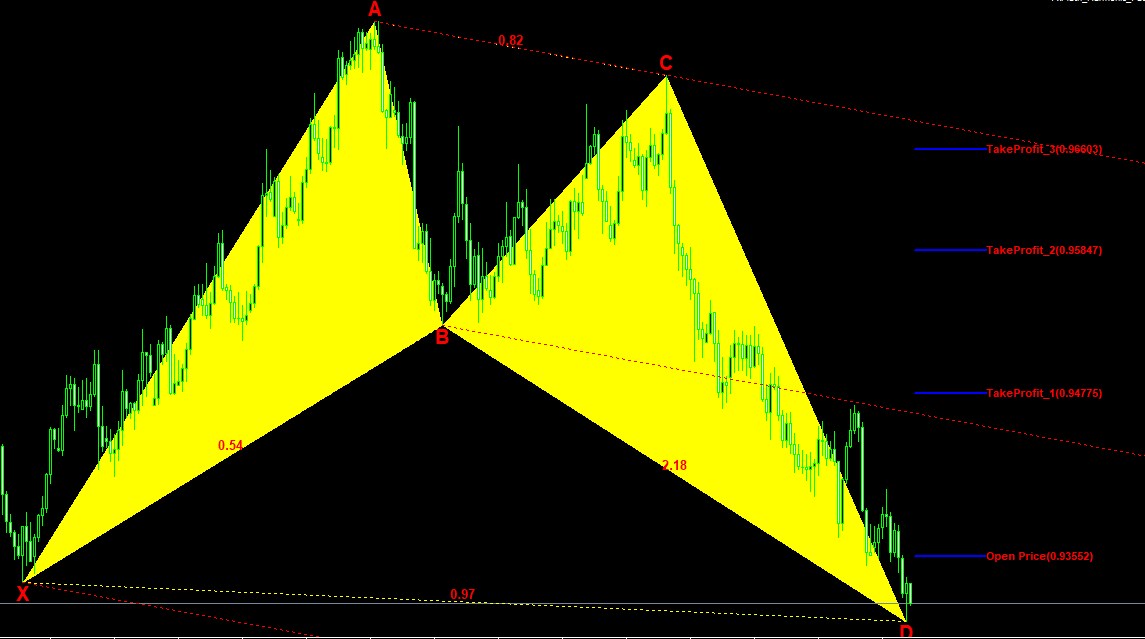 Comparison
Broker Comparison Maecenas porta rhoncus dui ut congue. Donec luctus non sem eu euismod. Ut rhoncus mauris non bibendum congue. Donec maximus ipsum a lectus sollicitudin.