InstaForex
Broker
ForexBroker
0
5
3.8

InstaForex
Instant Trading Ltd | Founded in Russia, 2007 | Regulated by BVI FSC, CySEC
Pros
Over 2 million traders worldwide
Winner of Best Broker in Asia multiple times
Training tools available
Cons
No premium features with MetaTrader platform
Not heavily regulated
Minimal advanced charting and tools available
Platforms
InstaForex MobileTrader
MT4
MT5
Withdrawal Options
Credit Card
Bank Transfer
Neteller
Bitcoin
Review
Introduction
InstaForex was created in 2007 in Russia. The platform has over 1,000 new clients registering every day, and more than 7 million traders around the world choose to use this platform. InstaForex is part of InstaForex Group. The company, Instant Trading Ltd, is licensed by BVI FSC with license number SIBA/L/14/1082 while Insta Service Ltd has registration with FSC Saint Vincent with registration number IBC22945.
InstaForex has won multiple awards and honors, including earning the title of Best Broker in Asia from the World Finance Awards for consecutive years. They have additionally earned the title of Best Retail-Broker from the EUROPEAN CEO Magazine and similar honors from CNBC Business Magazine. Other recent accolades include Best ECN Broker 2017 (and 2016) from the European CEO, Best Social Trading Broker 2016 by the UK Forex Awards, Best ECN Broker Eastern Europe 2016 by the Global Business Outlook, Best Forex Broker in Asia 2016 by the IAIR Awards, and Best ECN Broker in Asia 2016 from the International Finance Awards.
This platform supports an impressive 27 languages for you to use on its website and trading platform. This allows traders from around the world to easily access the platform with full understanding. The only issue is that you are automatically redirected to a language-specific version of InstaForex based on your IP address's location and cannot change this on the home page despite the presence of language options. You must go to another page on the platform's website to view the information in your chosen language if it differs from the detected language. The layout and design of InstaForex are not as aesthetically pleasing as that of competitors, and you will need to scroll a reasonable amount to get to the bottom of any page due to listings of partners.
Trading Conditions
The leverage offered by InstaForex is extremely high, up to 1,000:1, making it an industry leader in this respect. Traders should keep in mind, however, that with such high leverage, it becomes easier to experience a high loss with InstaForex.
When creating an InstaForex account, traders have the choice of several bonuses. There is a 100-percent bonus option for the first deposit. Or you can opt for a 55-percent bonus for every deposit. Other options include an instant 30-percent bonus on the deposit, various InstaForex Club bonuses, and InstaForex Coupon bonuses that are rewards from partners for trading activity.
InstaForex offers Standard Forex, Mini Forex, or Micro Forex accounts. There are also Cent Accounts. Cent.Standard and Cent.Eurica accounts, which are ideal for beginner traders seeking to hone their skills with minimal risk. Other than the smaller allowed deals and a lower maximum deal and deposit size, the trading terms are identical to those for Insta.Standard and Insta.Eurica accounts.
Products
InstaForex offers a wide range of trading instruments for users to select from. The platform offers 110 trading pairs for forex, 91 CFDs for shares, three CFDs for metals, 33 total CFDs for futures and indices, and five CFDs for cryptocurrencies plus binary options. As such, most traders will not need to use multiple platforms to trade the instruments that they favor.
Regulation
Compared to other brokers, InstaForex has minimal regulation. The broker is licensed by CySEC in Cyprus with license number 266/15 and by BVI FSC in the British Virgin Islands with license number SIBA/L/14/1082.
Platforms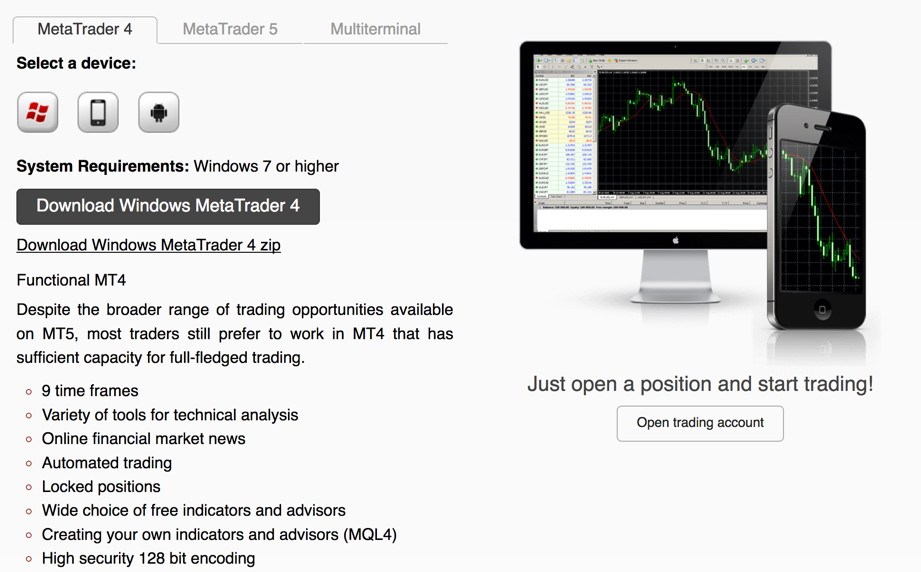 In terms of platforms, InstaForex uses MetaTrader 4 along with its proprietary platform for mobile trading and web trading. The InstaForex platform is easy to use by traders of all experience levels. Beginners will find plenty of support for MetaTrader4 while advanced traders will appreciate the wide range of trading options plus the ability to become a top trader for the ForexCopy system.
In terms of using the charts and trading software, everything is set up in a similar way to other forex platforms, providing familiarity. The option of a demo account also allows traders to become familiar with the platform before risking their money. Generally speaking, beginners and intermediate traders will likely be more comfortable with InstaForex than highly advanced traders, although there are enough tools to keep semi-advanced traders happy.
Automated trading within InstaForex comes via ForexCopy, which allows traders of all experience levels to copy the orders of the most successful traders. With the system, it is still possible to adjust settings and cancel copied orders. The orders that the copied trader executes for forex, stocks, and cryptocurrencies become signals that your account then automatically copies in return for a small commission. This particular tool helps InstaForex appeal to beginners, and the ForexCopy Traders are numerous with clear statistics. As mentioned, the InstaForex website supports 27 languages.
Mobile Trading
The mobile trading platform from InstaForex is available for both Apple and Android devices, and it has similar functionality to the web platform, including account access, trading history, time frames, news, analytics, and orders. The website is also mobile-friendly, although it is simpler to trade using a mobile app than a web platform on a tablet or smartphone.
Pricing
There is no Zero or ECN account available from InstaForex, with the broker making a profit on all account types via spreads. In a move that sets the broker apart from others, InstaForex opts for fixed spreads for most trading instruments, with the exception of EUR/CHF and USD/ZAR. Those spreads can go up 5 and 200 pips, respectively, during peak hours but are at 3 and 200 points, respectively, during the day.
Although the spreads are fixed, they are far from competitive with EUR/USD set to 3 pips for Insta.Standard accounts, but with a fee of 0. By contrast, Insta.Eurica accounts have a spread of 0 pips for the same pair but a fee of 3, making them essentially the same. You can view all spreads on the "Specifications" page.
Deposits & Withdrawals
The minimum deposit for InstaForex depends on the method. It stands at $1 for electronic payments, $50 for credit cards, and $300 for bank transfers. There are a total of 17 deposit methods, with specific availability based on the region in question. The only fees for deposits are those charged by the bank or system, and options include bank card payments, bank wires, MoneyBookers, Skrill, Neteller, Bitcoin, Megatransfer, AstroPay, China Union Pay, PayCo, Solidtrustpay, Paxum, OnlineNaira, B-Pay, and local transfers. Some deposit methods are instant while others can take up to 24 hours. In every case, the withdrawal method is the same as the deposit. There is also the option of an InstaForex Benecard or ePayments Card or Ukash for withdrawals.
Customer Support
There are many support resources on InstaForex via the support button found at the top of the page. There is an extensive FAQ section along with the option to request a callback, leave feedback, email, or chat online. The FAQ section is available in Russian, English, and Indonesian, with certain sections also available in additional languages. Call centers are available 24/7 with unique call centers (and clearly listed numbers) in the U.S./Canada, U.K., Switzerland, Malaysia, Indonesia, Georgia, Kazakhstan, Bulgaria, and Ukraine. Technical support is also available 24 hours a day via email, Viber, Twitter, ICQ, Skype, Whatsapp, Telegram, or the phone.
Research & Education
Beginners will appreciate the "For Beginners" section of the website, which provides some basic information, including how to progress from a demo account to a live account then to becoming a professional. There are also convenient sections for training, "getting started," and video tutorials. Advanced traders will appreciate the section titled "FX Analytics," which includes analytical reviews, a forex calendar, news, information from a chief strategist, Forex TV, and patterns.
Noteworthy Points
InstaForex focuses heavily on sponsorships of various athletes and sports, a fact that is impossible to miss as you browse its website. Most pages make at least reference to this, with many listing multiple recent sponsorships that you must scroll past to get the information you want.
The language support on InstaForex is impressive, but the website is not as easy to navigate as competitors. Overall, the broker has a good reputation and has not had any penalties or investigations in recent years.
Conclusion
InstaForex does not have as much regulation as some of the competing forex brokers, which is a strong point to consider for some traders. Despite this, it does have a very solid reputation among traders and experts along with excellent customer support. The platform's design and overall use make it the best option for beginners to intermediate traders who will be able to take advantage of its vast resources, including tutorials and copy trading. More experienced traders may want to opt for a platform with more charting and advanced tools available, although they will likely be more than satisfied with the trading instruments offered by InstaForex. Experienced traders may want to consider using InstaForex if they are interested in enhancing their profits via the ForexCopy program where they can earn commissions from those who choose to follow them and access over 400 instruments.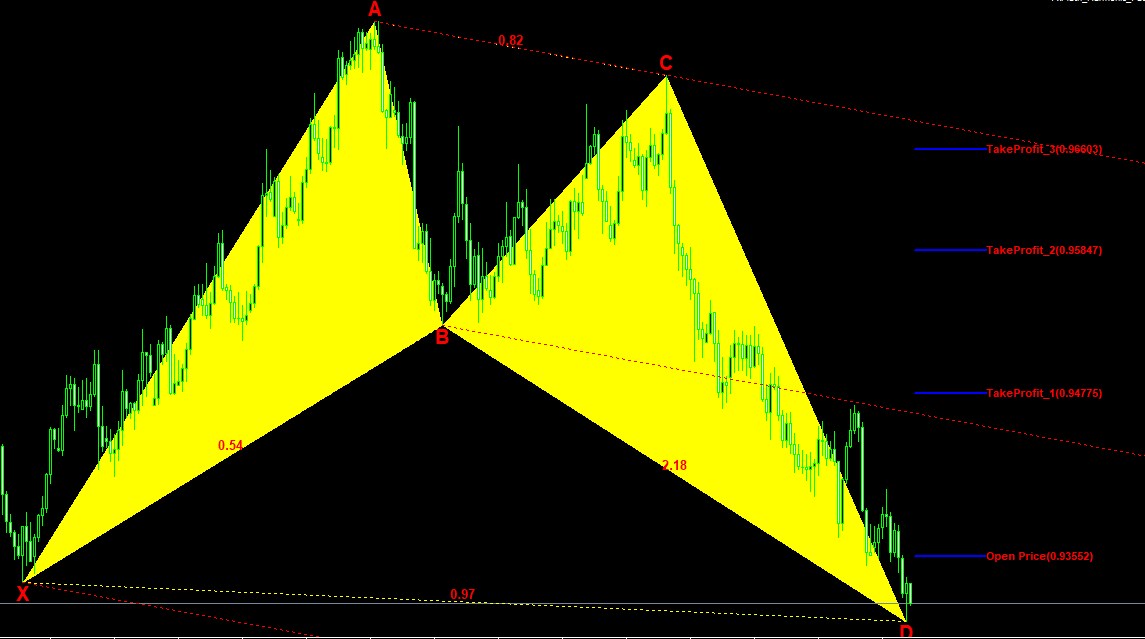 Comparison
Broker Comparison Maecenas porta rhoncus dui ut congue. Donec luctus non sem eu euismod. Ut rhoncus mauris non bibendum congue. Donec maximus ipsum a lectus sollicitudin.