IronFX
Broker
ForexBroker
0
5
3.3

IronFX
Notesco Financial Services Limited | Founded in Cyprus, 2010 | Regulated by CySEC, FSCA, FCA, ASIC
Pros
Regulated by CySEC, FSCA, FCA, and ASIC
Leverage of up to 1:500
Excellent range of trading products
Cons
Not open to U.S. clients
Variable minimum spreads and no maximum commission
No spread betting available
Withdrawal Options
Credit Card
Debit Card
Bank Transfer
Skrill
Review
Introduction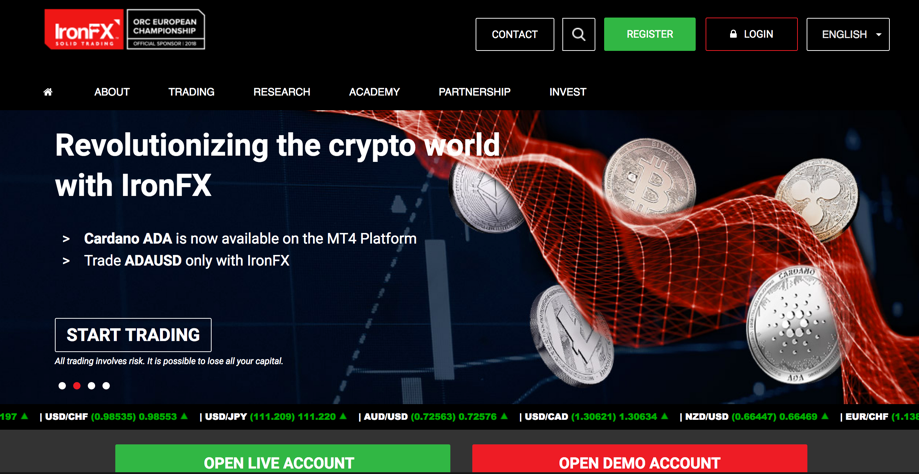 IronFX is based out of Cyprus and was founded in 2010. The broker has licensing from the Cyprus Securities and Exchange Commission (CySEC), the Financial Conduct Authority (FCA), the Australian Securities and Investments Commission (ASIC), and the FSP (South Africa). Today, IronFX has more than 10 trading platforms for traders to utilize, more than 200 tradable instruments, and serves customers in more than 180 countries with support in more than 30 languages.
IronFX has many awards under its belt, including the Best Forex Educators 2015 Award from the UK Forex Awards and honors in 2014 that include Most Trustworthy Forex Broker, European CEO's Best Customer Service Provider, Forex Expo's Best Broker in CIS and Russia, Best Forex Service Provider, UK Forex Awards' Best Forex Research Reports, and FX Report Awards' Outstanding Contribution to the FX Industry and Best Mobile Trading Platform.
IronFX provides support in over 30 languages, allowing the platform to be accessible to those around the world. The main website is available in 14 languages, with the option to change language at the top of the page. The website and trading platforms are all easy to use.

In 2016, IronFx planned M&A with Nukkleus Inc., FXDD Malta Ltd, and Forexwater, but news said thie plan was cancelled in December 2017.


Trading Conditions
The leverage offered by IronFX depends on the account chosen, with up to 1:500. When you open an IronFX account, you have your choice of bonuses. You can opt for a 100 percent Sharing Bonus Unlimited, a 40 percent Power Bonus of up to $4,000, or a 20 percent Iron Bonus of up to $2,000.
IronFX seems to offer different bonuses, depending on countries and timing. In the past, they have offered $25 no deposit bonus after signup. This bonus is no longer offered. Instead, in some countries they offer a Limited Protected Traders Bonus. With this bonus, traders can get compensated for their losses, up to $500.
IronFX has an overwhelming number of account types to select from. Individual investors can choose from a Micro Account, Premium Account, VIP Account, Absolute Zero Account, STP/ECN Account, Zero Fixed Spread Account, Mirror Account, or Absolute Zero Plus Account. Businesses and institutions can further choose from Affiliate Accounts, Affiliate Plus Accounts, Business Accounts, or Managed Accounts for traders who wish to have their investments managed by authorized professional. The options with live floating or fixed spreads (Micro, Premium, and VIP), all have a maximum leverage of 1:30 with varying deposits and no commissions. Zero spread accounts have the same maximum leverage and commissions with a zero spread. To increase the leverage, clients can contact IronFX.
IronFX also offers a Demo Account, and in the past a Cashback Account, which unfortunately is no longer available.
Products
IronFX offers a very nice range of markets, which includes enough so very few traders will need to go elsewhere for additional options. As mentioned, there are over 200 total trading instruments on IronFX. The platform delivers access to over 120 forex pairs, which includes majors, exotics, and minors, along with CFDs on spot metals in EUR and USD, spot indices with tight spreads, spot commodities, futures, and shares. They also offer Cryptocurrencies: Bitcoin (BTC), Ethereum (ETH), Litecoin (ITC) among others.

Regulation
IronFX is among the most highly regulated brokers. It holds a license from CySEC in Cyprus with license number 125/10. It also follows MiFID and is registered with the AFM in the Netherlands, AMF in France, CNMV in Spain, CNB in the Czech Republic, CMVM in Portugal, FI in Sweden, KNF in Poland, CONSOB in Italy, HFSA in Hungary, and BaFin in Germany. Finally, IronFX is a member of the ICF (Investor Compensation Fund) and CFSFA.
Platforms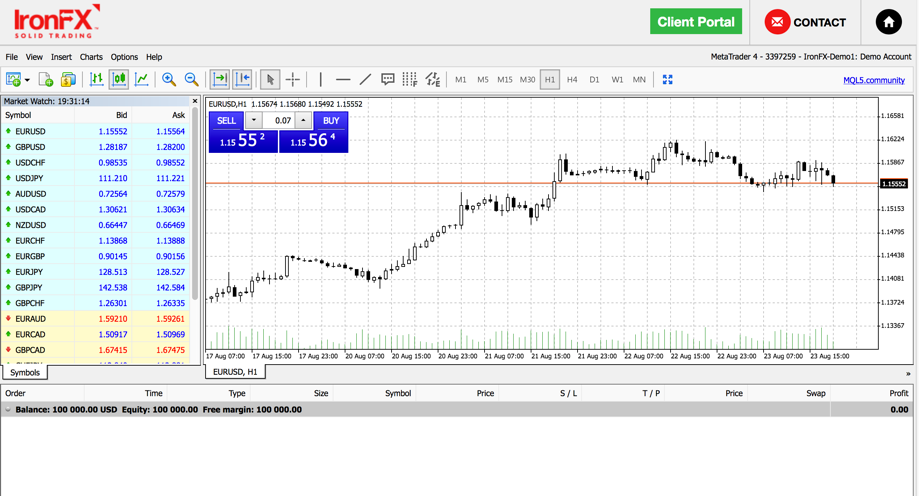 The trading platforms used by IronFX include MetaTrader 4, Multi-Account Manager for PC, and WebTrader 4, with the latter two being just variations of MT4. As such, IronFX does not have its own proprietary platform but does offer the full range of MetaTrader 4 platforms.
MetaTrader 4 is a straightforward platform that allows for efficient trading for all skill levels. Beginners can stick to the regular version of MT4, the WebTrader, or the mobile version. The MT4 Advanced platform will be the choice of advanced traders who want these enhanced charting tools, which include the built-in EA ability, automated strategies, live monitors, and more. The Personal Multi-Account Manager is also highly advanced, making it possible to trade several MT4 accounts at the same time and offer the same advanced charting tools.
Because IronFX uses MetaTrader 4, traders can take advantage of that platform's reliability and speed. It is important to note, however, that because IronFX does not use MetaTrader 5, you do not have access to the advanced development and backtesting options along with other advantages associated with MT5, such as real volume traded data and access to both centralized and non-centralized markets. In terms of available tools, there are many built into the MetaTrader 4 platforms, including indicators and EAs.
Mobile Trading
Those who want to trade from a mobile device will have to use a mobile version of MetaTrader 4. It is theoretically possible to use the WebTrader on a mobile device, but not recommended. The mobile applications for MT4 are fully featured and highly rated, so there should be no issue.
Pricing
Because of the size of the broker, IronFX can offer competitive pricing. Spreads vary from as low as 0.5 to 1.7 for live floating spreads with EUR/USD or 1.6 to 2.8 for fixed spreads, depending on account type. ECN and Zero Spread accounts have no spread and charge a commission based on the number of lots traded instead.
Deposits & Withdrawals
Withdrawals from IronFX are always done with the same method used for the deposit. IronFX does not charge deposit fees, but banks may for wire transfers. Wire transfers have no restrictions or limits. Credit and debit cards have a maximum transaction of $50,000 and have a withdrawal fee of up to 1.5 euros. Deposits and withdrawals with Skrill cannot exceed $50,000, and withdrawal fees stand at 1 percent (up to $10,000). Neteller has the same withdrawal limit but a fee of 2 percent (up to $30 but a minimum of $1).
Fasapay has a transaction limit of $5,000 with a withdrawal fee of 0.5 percent (up to $5). China Union has a transaction limit of 360,000 CNY with a withdrawal fee of 20 CNY. DotPay has no fees and a maximum transaction of 200,000 PLN. Finally, you can make a deposit via mail or over the phone without a fee.
It may take time to process withdrawals, some traders have mentioned that IronFX is slower than other brokers.
Customer Support
As a large international forex broker, IronFX offers a variety of support resources. You can find instructions for using the MetaTrader 4 platform on IronFX as well as numerous outside resources. For support specific to IronFX, you can find support 24/5 with a live chat and the option to request a callback from any page on the website. There is also email contact information for client funding queries as well as email and phone support for the trading desk, customer support, and IronFX contracts, the last of which also has a fax number. The IronFX FAQ section should be enough to answer most questions as it has categories for opening accounts, client funding, trading, and the trading platform.
Research & Education
IronFX has its own Academy where you can learn via seminars and webinars, or find out about an expo to attend. There are also educational videos and an encyclopedia. IronFX has its own set of trading tools, such as calculators for margins, pips, and currency conversions. There is also free VPS hosting and a visual representation of when the major markets are open. The IronFX Research mobile app provides financial articles, real-time currency quotes, daily technical and fundamental commentaries, live economic calendar alerts, and daily market news. All these features are included as part of holding an account. There are enough resources for beginners and experienced traders alike.
Noteworthy Points
IronFX has an excellent reputation and is one of the industry leaders in the world of forex trading. The website and platforms are easy to use. IronFX occasionally sponsors events and organization. It is one of the sponsors of the 2018 Offshore Racing Congress (ORC) European Championships and will support an IronFX Racing Yacht. IronFX previously sponsored the ORC Worlds Trieste 2017 and was an official partner of FC Barcelona from 2014 to 2017.
Conclusion
IronFX is among the most popular trading platforms found around the world, and it is an excellent choice for many traders. Although, their popularity in Japan is not so good after a bad breakup with the Japanese market to satisfy FSA regulations (which they were unable to attain).
The range of trading instruments allows it to appeal to most traders as do the support for all types of the MetaTrader 4 platform. Those who are not fond of MT4 for some reason will not want to use IronFX since this is the only supported platform, but most traders should be very happy with its offerings. Beginners will appreciate the IronFX Academy with its educational materials while even advanced traders can benefit from seminars and webinars. The range of MT4 platforms supported by IronFX allows this platform to appeal to traders of all skill levels. Beginners may stick to MT4 Standard while experienced traders will use MT4 Advanced and professionals or money managers will use the Personal Multi-Account Manager.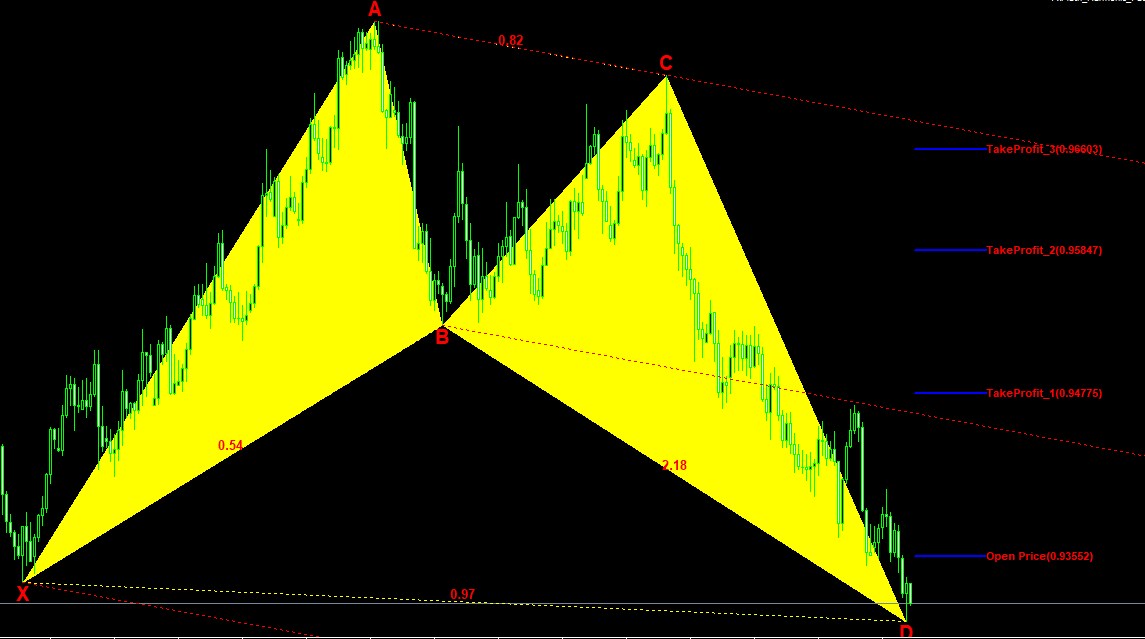 Comparison
Broker Comparison Maecenas porta rhoncus dui ut congue. Donec luctus non sem eu euismod. Ut rhoncus mauris non bibendum congue. Donec maximus ipsum a lectus sollicitudin.