Poloniex
Broker
ForexBroker
0
5
3.7

Poloniex
| Founded in USA, 2014 | Regulated by FCA
Pros
Well regulated
Great offering of cryptocurrency pairs
Offer lending and margin services
Cons
No mobile trading
No education resources
No fiat to crypto service
Review
Introduction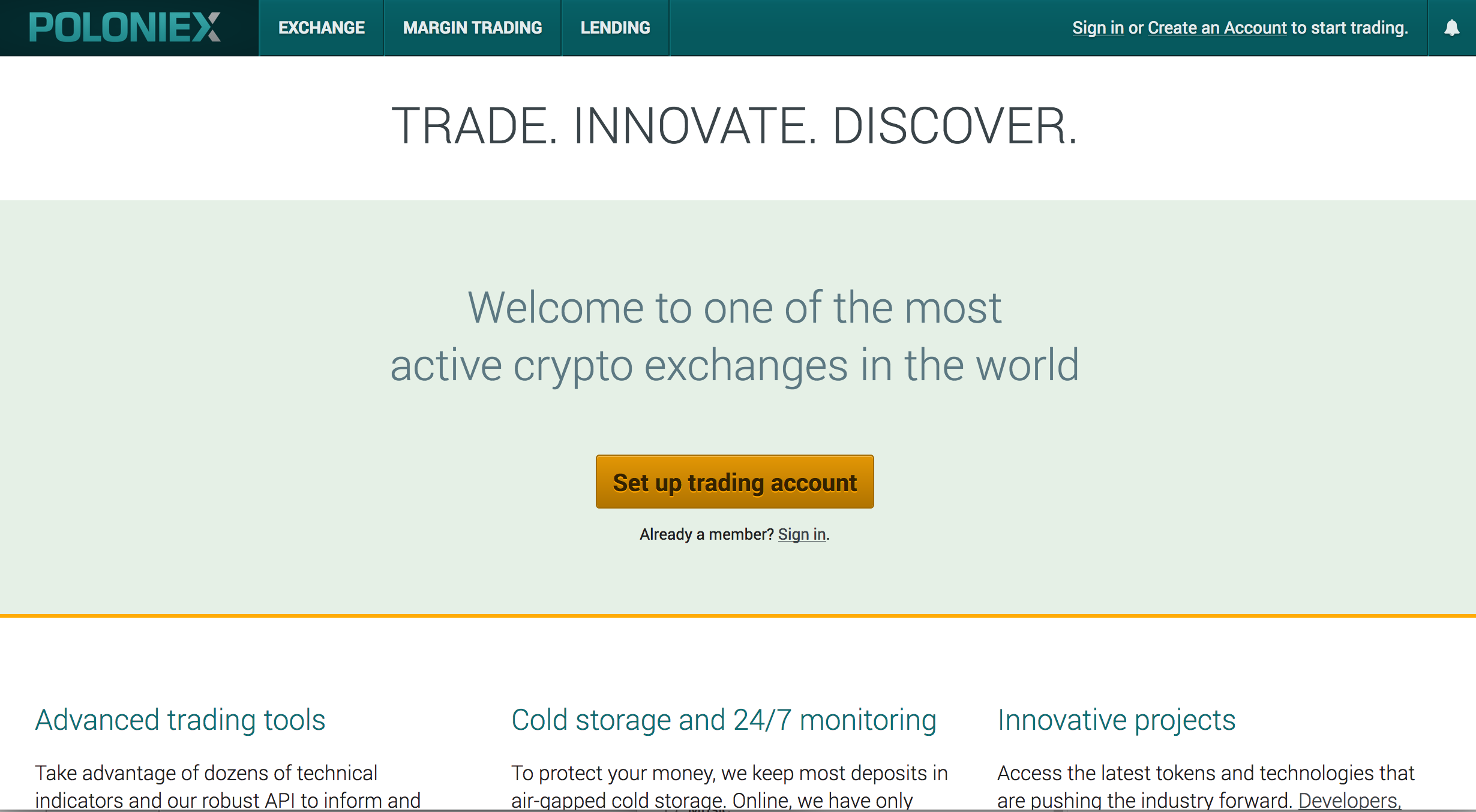 Poloniex has been around since 2014 and they are a digital currency exchange that is based out of the United States. It was in February of 2018 that Circle acquired them. Circle has a New York BitLicense, as well as their company being regulated in the United Kingdom by the Financial Conduct Authority (FCA).
There are almost two hundred different currency pairs offered by Poloniex. The platform is very easy to use and there are many different languages that are catered for.
Over 200 different currency pairs offered
Founded in 2014
Headquarters in Delaware, Untied States
Trading Conditions
There is only one account type on offer with Poloniex as is common with crypto exchanges.
This is obviously not ideal as it is a one size fits all approach. Most Forex brokers will have multiple types of accounts to choose from, catering to different types of needs that a customer may have. For instance the more you trade, the better your conditions will be. This will usually include better commissions or fees and other extra features and resources. This is a very barebones offering that does exactly what it says on the tin.
One account type
Barebones offering
Products
With over 200 different currency pairs on offer with Poloniex, you are spoilt for choice. There are more than 60 Bitcoin pairs alone, so you can be sure that everything you are looking for is going to be met. The other main base currencies they offer are Ethereum, USDT and XMR.
Regulation
The parent company of Poloniex is Circle and they are regulated by the FCA in the United Kingdom.
In the cryptocurrency sector, there are not really any proper regulatory bodies that can give these exchanges legitimate licenses, so there is an element of trust that goes into investing your time and money with a given platform.
They do take the security of their users very seriously and urge all people signing up for a new account with them to ensure that they enact two factor authentication.
Platforms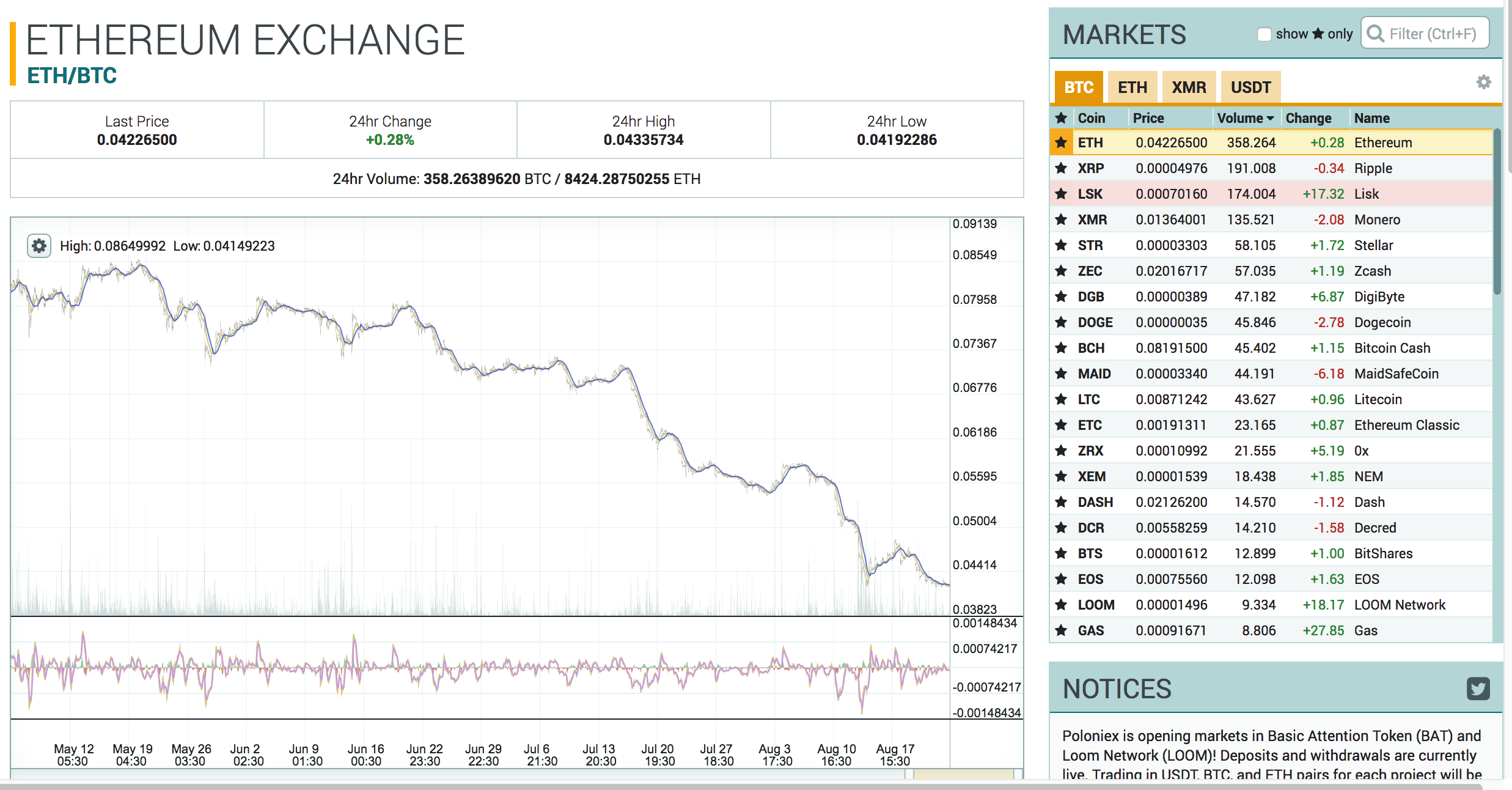 The Poloniex trading platform offers everything you need when getting started trading, making it an ideal choice for beginners. There are two different types of orders, limit orders and market orders.
You deal with market orders when it comes to buys and sells, whereas the limit orders or stop limit orders are utilised for both long and short positions.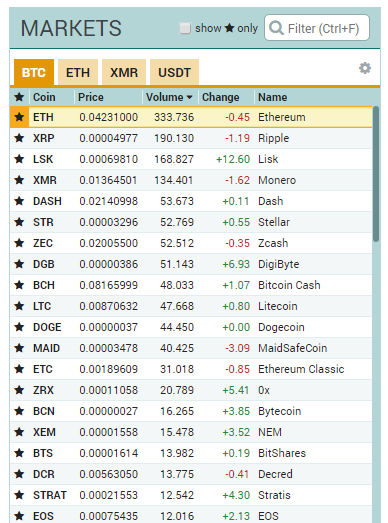 As part of this platform, the charts have six different candlestick timeframes and eight different levels of zoom. They have a wide variety of indicators and charting tools available for you to use. It is very easy to use and placing an order only takes matter of seconds.
Proprietary trading platform
Market orders and limit orders
Mobile Trading
While Circle is the parent company of Poloniex and they have a well-respected app for sending and receiving payments, there is no app dedicated to Poloniex trading.
There is no indication that one is in the works either. Of course, through the Circle app, you are able to partake in crypto to fiat trading, which means that it is much of a muchness as you can simply use Circle instead. Perhaps the folks who are making the decisions don't believe there is a need to duplicate their offering by creating a dedicated app for the Poloniex exchange.
Pricing
There is only one type of account with Poloniex, so you have no choice in the matter. Generally, with this account, you are going to be looking at a trading fee between 0.1% and 0.2% but for some traders who are trading in very high volumes, this could get even closer to the 0% mark.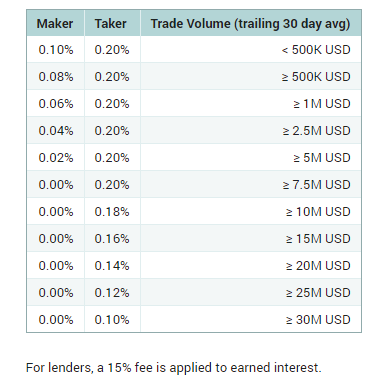 They also have a commission tier depending on the volume a given trader has, as well as factoring in if a given trader is taking or making market liquidity. In general, their fees and commissions are competitive when compared to the market as a whole.
Competitive fees
Tired commission structure
Deposits & Withdrawals
At this moment in time, Poloniex do not accept fiat currencies when depositing. This means that you are going to have to use a fiat to crypto broker in order to transfer your fiat funds into a cryptocurrency that can then be traded on the Poloniex exchange.
Some of the most common currencies that are used on the platform when sending funds to deposit include bitcoin, ethereum, dash, litecoin, zcash and monero. With over 100 altcoins supported on the exchange, you won't be short of a way to add funds to your account, which can be achieved almost instantly.
The same goes for withdrawals, you can send your funds wherever you like in the matter of seconds with most of the cryptocurrencies.
As they are able to use the expertise of the Circle team, you can be sure that their security systems for payment processing are top quality.
Don't accept fiat currencies
More than 100 altcoins supported on the platform
Customer Support
Just like with the majority of cryptocurrency brokers you are going to come across, they do not do customer support very well at all.
It just never seems to be a priority with them. It may be due to the anonymous nature of many cryptocurrencies, with privacy and security being of the upmost concern, so they prefer to keep their cards close to their chest possibly.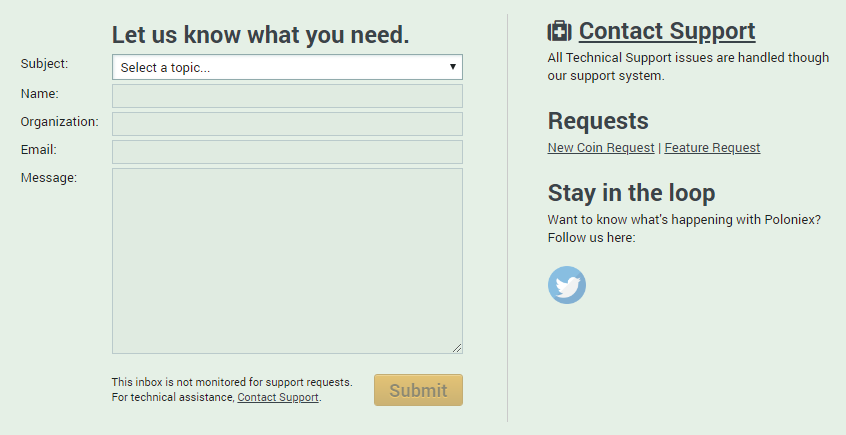 The only way in which you are able to get into contact with the Poloniex customer support team is by filling out an email ticket. When you do so, you could be waiting a long time to receive a response. They do have a FAQ section, but it is only basic in terms of the questions that it answers.
Only option is filing an email ticket
Slow response times
Research & Education
When it comes to brokers who are focused solely on digital currencies, they do not really engage in any form of market analysis or have education resources for their users.
The likes of Poloniex simply provide straightforward guides as to how traders can get started with their new accounts, so they will have to go elsewhere to get their market analysis and advice on the best trading strategies.
Noteworthy Points
Poloniex is very particular when it comes to their security and they are very insistent on their users enacting two step authentications to try and keep their accounts safe. Many digital currency brokers have been the target for hacks in the past, with vulnerable user accounts often being exploited and drained of funds.
Their platform is very simple and straightforward to use, they pore everything into performance rather than worrying about unnecessary side features.
Conclusion
Poloniex does everything that is required of them when it comes to digital currency trading. They have a wide array of altcoins on offer and a couple of hundred different currency pairs, which is one of the best offerings around.
They are somewhat limited when it comes to their banking options and like a lot of digital currency brokers, they have limited education resources and no market analysis.
Their fees are generally competitive with the industry and their trading platform works seamlessly. There is a lack of a mobile platform, but this can be overcome by using their parent company, Circle's app.
Overall, Poloniex provides plenty of trading options that makes them a legitimate choice as a broker.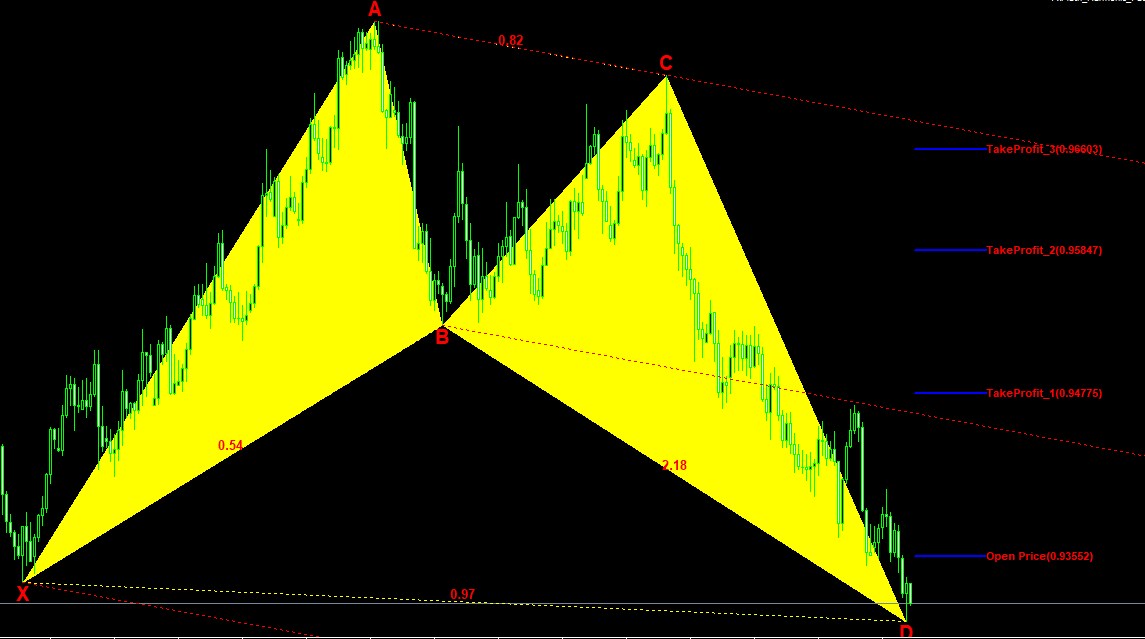 Comparison
Broker Comparison Maecenas porta rhoncus dui ut congue. Donec luctus non sem eu euismod. Ut rhoncus mauris non bibendum congue. Donec maximus ipsum a lectus sollicitudin.