DupliTrade
Platform
ForexBroker
0
5
3.9

Pros
Variety of strategy providers
Simple and easy to use
Excellent customer care and support
Cons
High initial deposit
Lacking real testimonials
Limited trading tools
O/S Compatibility
Web-based, Windows, Mac, Linux, Android, iOS
Features
Advanced automated trading
Multiple trading strategies
Variety of tradeable asset classes
User friendly interface
Review
Introduction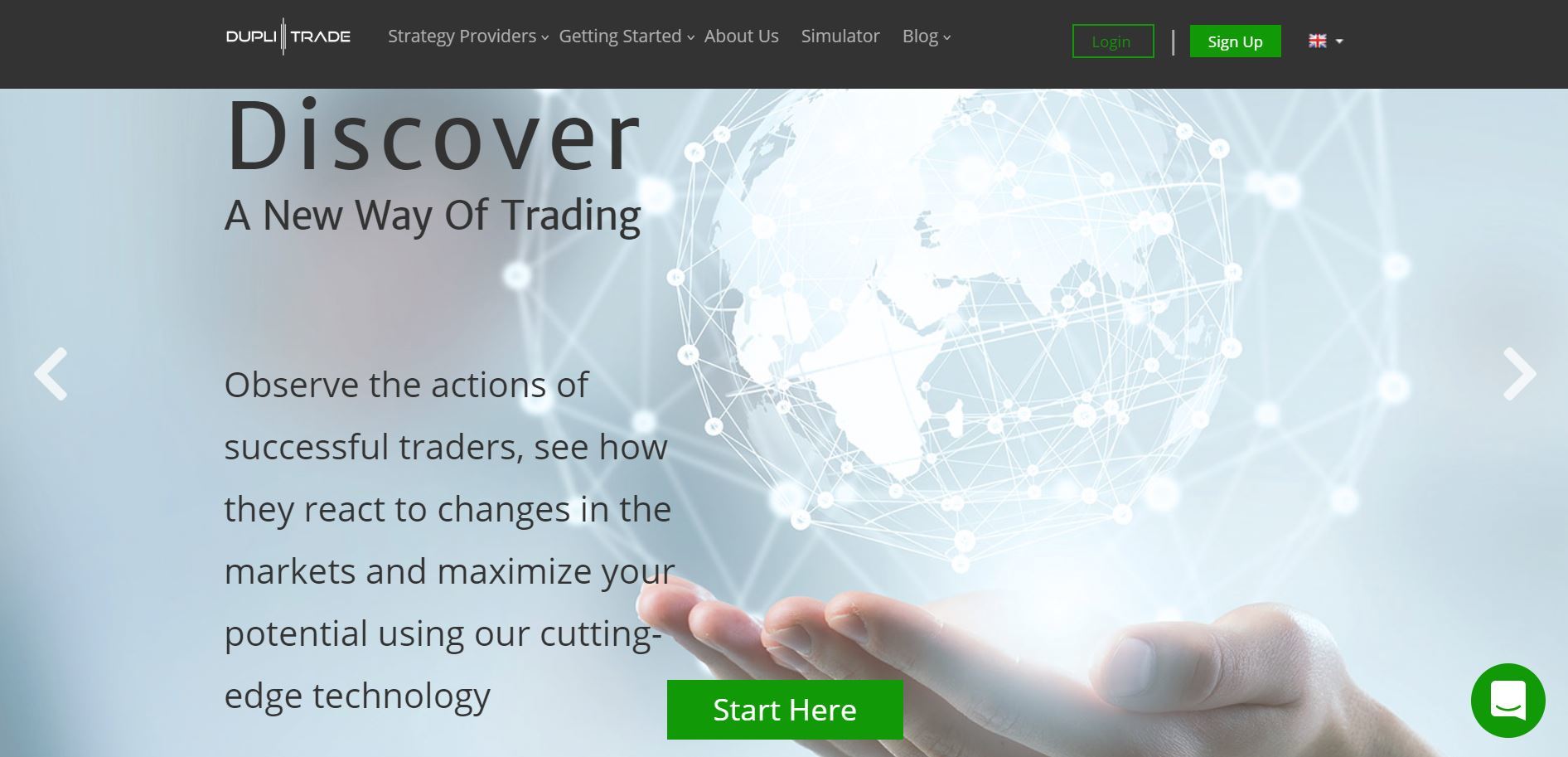 DupliTrade is a relatively new software company that was founded in 2017 and is based out of New York with their headquarters located at Wall Street, New York, New York *10038, United States. The company consists of only 2 – 10 employees and was only recently established, but they have already made large advancements in the online trading industry. DupliTrade has already partnered with 9 well established online trading brokerages, most notably being IC Markets, AvaTrade, Pepperstone, and FXPro. DupliTrade offers these brokerages a complete automated trading system that utilizes an advanced auto-execution mirror system which enables traders to automate their trading in the forex, indices, commodities, and cryptocurrency markets.
The DupliTrade automated trading software is still very new and the company has yet to win any awards, but they are a very promising company that provides brokerages and traders with a lucrative and robust automated trading system. The DupliTrade software is available to traders and brokerages from around the world and supports 9 different languages including English, Arabic, Spanish, Chinese, and Russian.

Ease Of Use
The DupliTrade automated trading software was developed with both beginner and experienced traders in mind. The software is very easy to use and implement with your standard brokerage account. Traders simply sign up for a DupliTrade membership, open a partnered brokerage account, and link the account to DupliTrade. Once the account is linked, you simply select a strategy provider to follow, adjust your parameters of exposure, and track and analyse your trading account in real time.
Therefore, the entire process is simple enough for beginners and sophisticated enough for advanced traders as they have 10 different strategy providers to choose from, complete with a wide array of statistical information to view on each.
Compared with other automated trading systems, DupliTrade's system is much more polished. The majority of automated trading systems available today are scams or just terrible systems. DupliTrade's system on the other hand is far from terrible and is not a scam.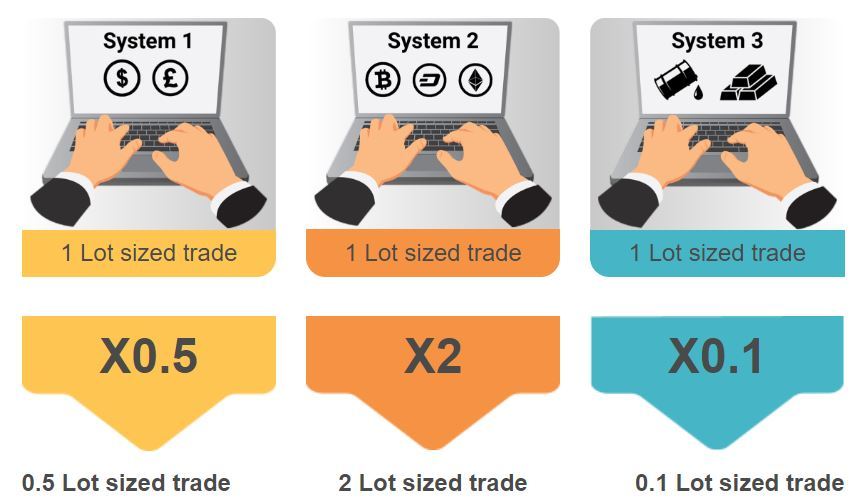 Performance
The DupliTrade automated trading software provides a seamless trading experience from start to finish. Upon downloading the software and linking it to your brokerage account, everything is fast and smooth. Traders can easily navigate and use the platform without any glitches. Once a strategy provider is chosen, users can control their own trading parameters and view their accounts and positions in real time via their brokerage trading account. DupliTrade only partners with reliable and reputable brokerages, which helps to ensure a smooth automated trading experience. Many other automated trading services operate on a per brokerage basis and can be highly unreliable, while DupliTrade is trusted among to brokerages.
Range Of Markets
DupliTrade offers automated trading on various financial markets including the forex, indices, commodities, and cryptocurrency markets. The Markets in which DupliTrade users can participate in are dependent on the strategy providers portfolios. Before choosing a strategy provider, users can view the strategy provider's portfolio along with various statistics. Strategy providers may trade in only one market or trade assets from a combination of all markets. Therefore, traders have plenty of options to choose from.
Charting
DupliTrade is an automated trading software provider that facilitates automated trading by providing users with a selection of strategy providers to automatically copy. Therefore, DupliTrade provides their users with a charting package based on the strategy providers performance, rather than on the assets they trade. For instance, DupliTrade users can view a wide variety of statistics on the strategy providers in a chart format. Such statistical charts include; profits over a period of time, the balance of account with deposits and withdrawals, monthly profit and loss, portfolio asset allocation percentage, and value of the portfolio assets. The statistical information mentioned here can be viewed in chart format, but traders also have access to over 20 other statistical parameters in which help them decide which strategy provider to follow.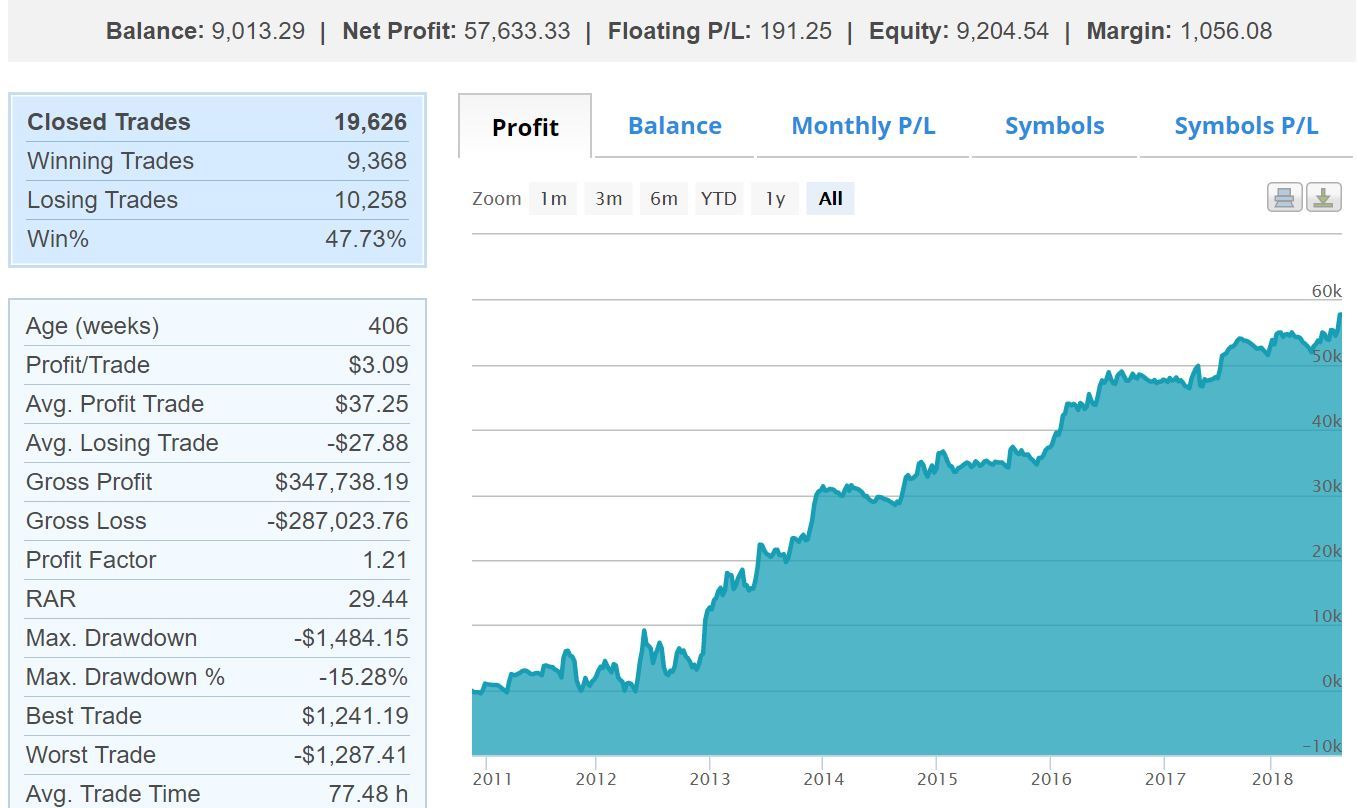 Available Tools
DupliTrade does not offer traders a whole lot of tools, but rather offers them an immense amount of statistical information. Unlike traditional trading platforms where traders have access to a variety of trading tools to analyse the markets, DupliTrade keeps things simple by providing all of the data needed to make an informed decision on which strategy provider to use for automated trading. Upon deciding on a strategy provider, traders can set certain trading parameters to manage risk and personalize their portfolio. Such trading parameters include a trade multiplier, as well as monitoring trades, positions and profit and loss, all in real time. Other than that, DupliTrade does not provide trades with many tools as they focus on keeping things simple and easy.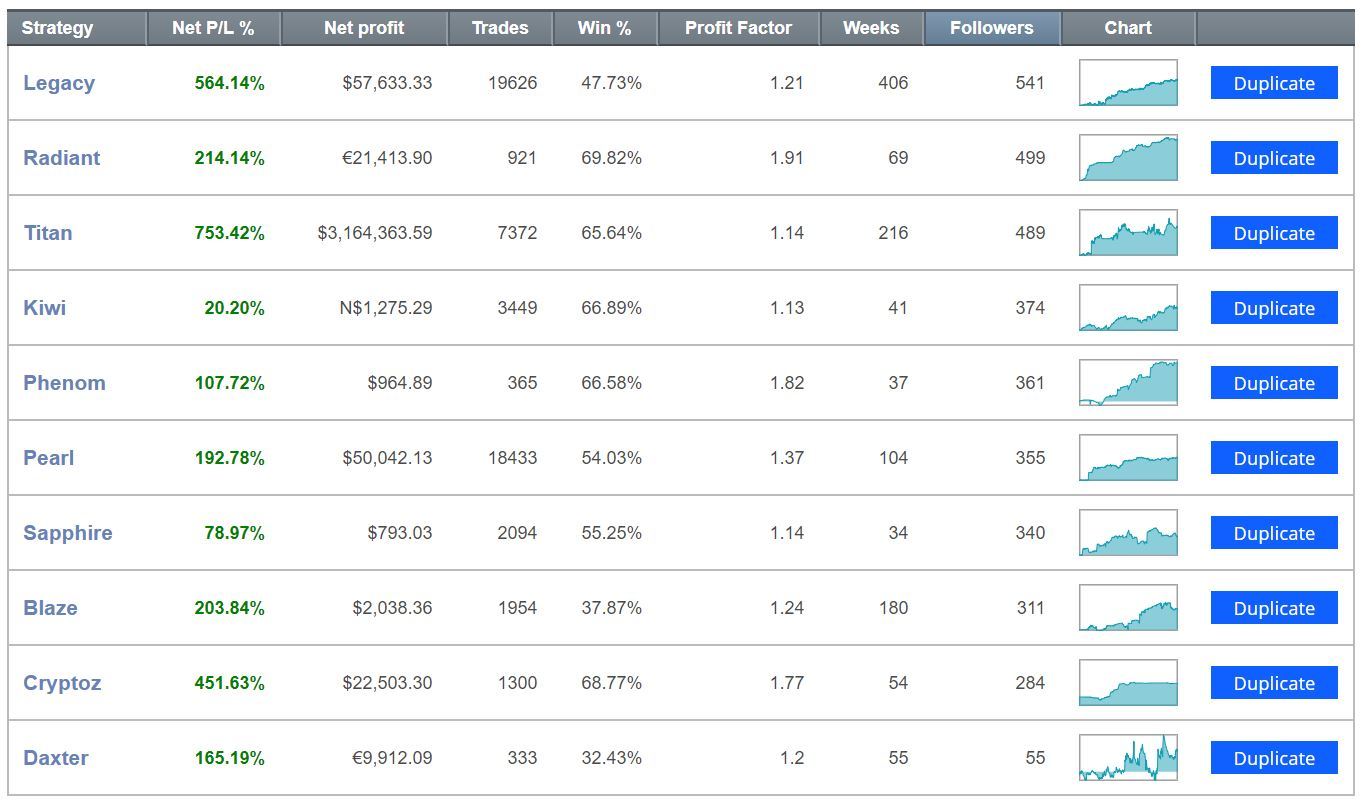 Automated Trading
The automated trading provided by DupliTrade's software is real and authentic, unlike some questionable auto trading software companies available today. Traders have access to 10 different strategy providers, all of which use a variety trading techniques and tradeable assets. Traders simply choose one to copy and track their portfolio in real time via their DupliTrade account. The type of auto trading DupliTrade utilizes is called automated trading by signal providers.

Support Resources
DupliTrade provides their customers with an extensive array of support resources and educational content. The DupliTrade website has an excellent "getting started" page where traders can learn exactly how the DupliTrade software works and how to analyse and choose the right strategy provider for you. Also, traders have access to an extensive FAQ page, a glossary of relevant terms, a blog, and the best feature of all, a simulator. The simulator allows traders to choose a strategy provider or a selection of providers to automatically copy with $100,000 of virtual money. Traders can then track their virtual portfolio in real time and decide if DupliTrade's services are profitable and right for them.
In addition to the support resources, traders can get in contact with DupliTrade support representatives via live chat and email.
Compatibility
DupliTrade's automated trading system is entirely web based and requires no downloads or installations. The DupliTrade platform can be accessed directly from the DupliTrade website on any desktop computer or mobile device via the web browser interface.
Conclusion
The DupliTrade automated trading software platform is a highly sophisticated and trusted automated trading solution. The platform is partnered only with viable and reputable trading brokerages and features 10 different strategy providers to copy. The platform is extremely easy to use and provides an extensive amount of statistical information regarding the strategy providers trading history, reputation, and assets. Traders can track their investments in real time and change their automated trading parameters to further protect their investments and personalize their portfolios. Overall, the DupliTrade automated software is of premium quality and potentially very lucrative.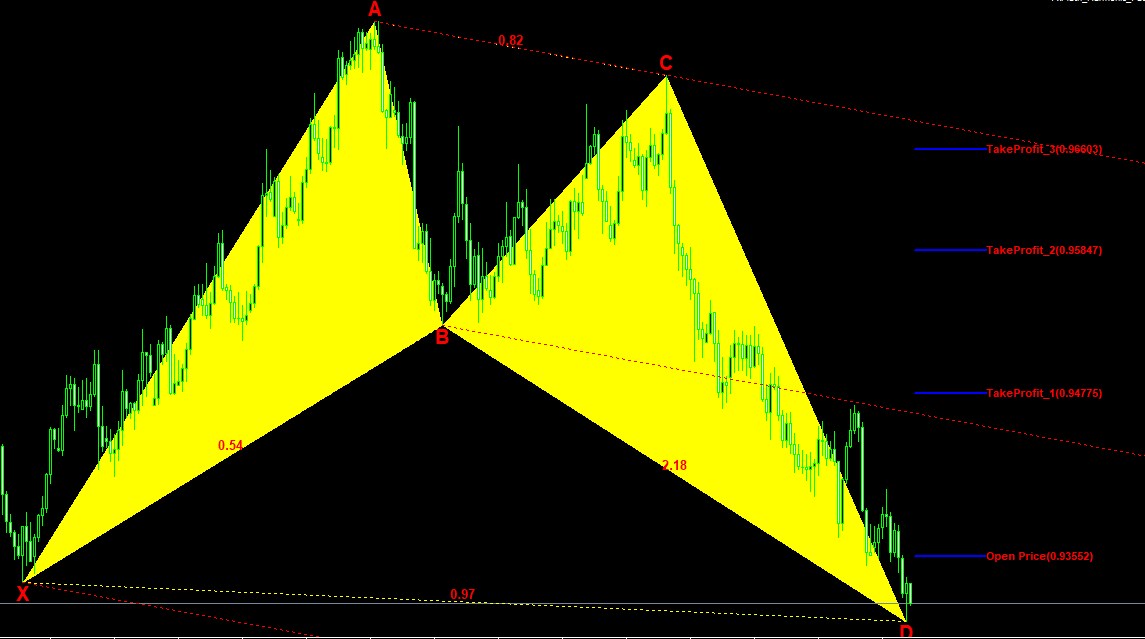 Comparison
Platform Comparison Maecenas porta rhoncus dui ut congue. Donec luctus non sem eu euismod. Ut rhoncus mauris non bibendum congue. Donec maximus ipsum a lectus sollicitudin.