thinkorswim
Platform
ForexBroker
0
5
4

Pros
You can manage all the products of the accounts
Offer you more currency pairs than other brokers
Has an excellent mobile application platform
Cons
Autotrade is only available to subscribers from participating consulting firms
Not exactly the most suitable for novice traders
The system is a bit complex to understand.
O/S Compatibility
Desktop computers and Mobile through browsers/Specialized apps for iOS, Android and Windows.
Features
Economic data
In-app chat
Technical Analysis
Review
Introduction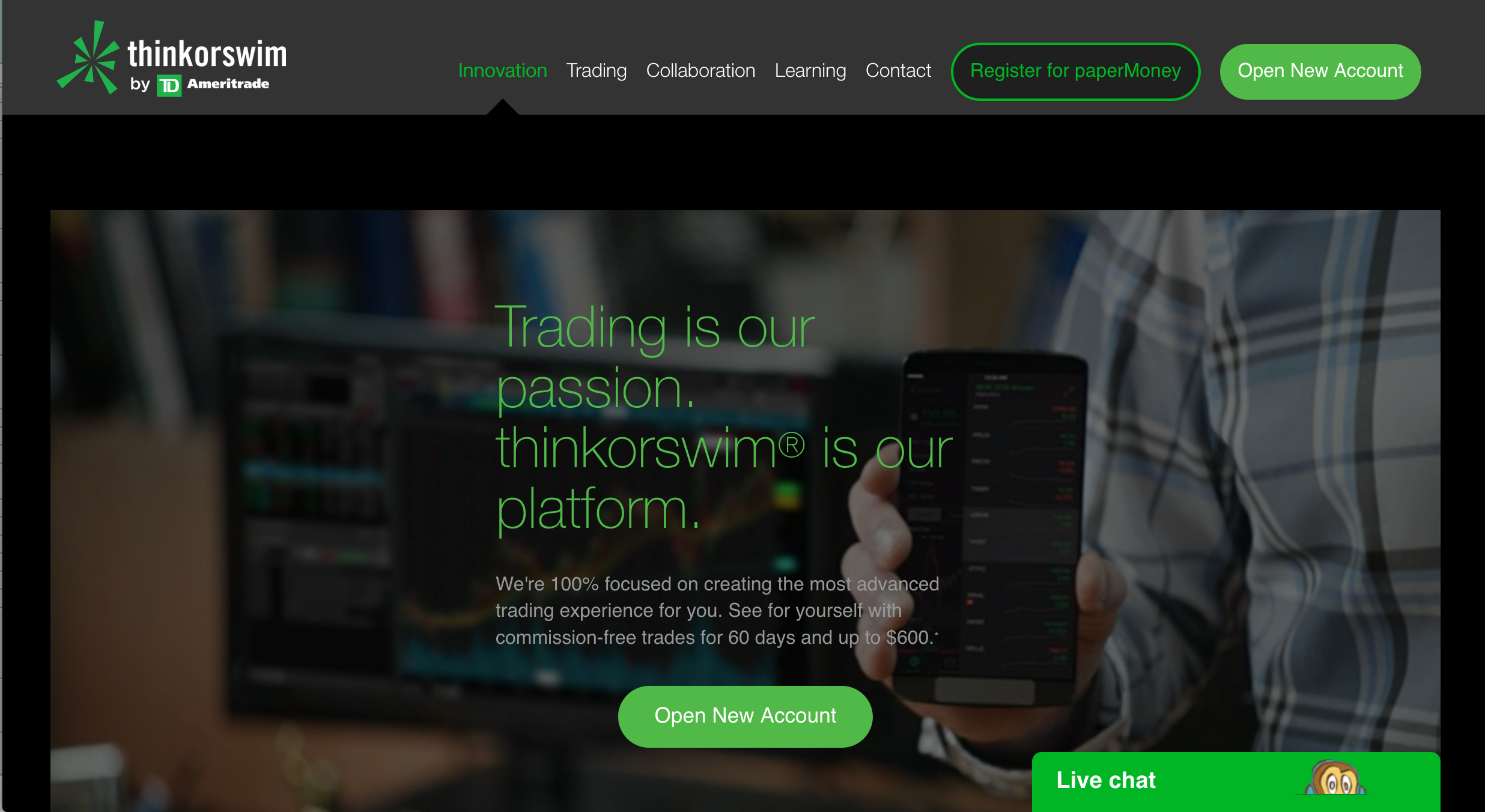 Basically, Thinkorswim is the Broker TD Ameritrade platform, which is based in Omaha, USA; Thinkorswim is a very robust platform full of excellent features, which allow us to trade Stocks, Options, ETFs, Futures, Forex, Mutual Funds. It is available in English.
Not long ago it was acquired by AMTD (Ameritrade), one of the first online brokers, to combine the innovative technology of TOS and the level of customer support and extensive experience of AMTD.
Although TOS allows trading any asset, ETFs, shares, Forex, mutual funds, and futures, it is a firm specialized in Options trading, and has, without being modest, the best trading platform for the retail investor today.
The analysis of the different trading possibilities from different angles is one of the fundamental pieces of the technology of this platform, although perhaps the interface is a little scary at first and is not very user-friendly, the number of features it offers are countless and extremely useful. Among them, we can name risk profiles for positions combined with options, an excellent charting system, and a very, very full position monitoring window.
To this, we add...
Awards!
Thinkorswim was ranked #1 in the online brokerage ranking of Barron's 3/16/2009, a well-known and respected environmental magazine, as "The best for frequent traders or self-directed investors" and "The best for options traders."
Thinkorswim was ranked #1 overall among the 15 online brokers evaluated in Stock Brokers.com Online Broker Review 2015, for the fourth consecutive year.
It was evaluated against other brokerage firms in eight categories, including trading experience, execution, platform technology, ease of use, the range of services, research services, portfolio analysis and reporting, customer service and affordable pricing. Thinkorswim topped the list in 2006, 2007 and 2009, with the highest score.
As for regulations…
This is one of the aspects that we should look at when we want to entrust our money to invest because there are many ghost brokers registered in tax havens and are not regulated by any authority, so we are playing the lottery when working with these types of entities.
The United States is too demanding regarding regulations, and it gives us a little more confidence to invest our money in a broker who meets these requirements.
I bring the issue of regulation to this article because as investors we must be aware of where our capital is going to be.
Thinkorswim is a broker that is regulated by:
FINRA (Financial Industry Regulatory Authority)
SIPC (Securities Investor Protection Corporation)
SEC (U.S. Securities and Exchange Commission)
Regarding brokers supporting the platform, only TD Ameritrade provides the platform since they purchased it.

Ease Of Use
Thinkorswim offers a huge variety of tools and features aimed at advanced traders. That means beginner traders would not be the best suited for its services. While it offers significant learning material, it is mostly oriented towards self-directed investors, traders with enough experience to be more independent.
Performance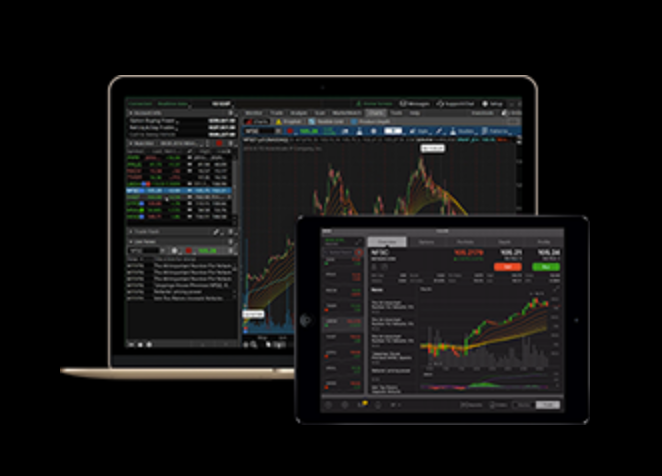 The platform offers a great interface with a modern layout that gives the feeling of fluidity and efficiency. The UI has very advanced graphics, and the mobile versions of the browsers and its apps are successful at adapting the platform to a portable device. Its low latency provides with no visible downtimes.
TOS has a significant edge against competitors thanks to a wide array of financial instruments and minimum trading requirements.
Range Of Markets
Thinkorswim has over 100 commission-free ETFs, over 13,000 mutual funds, over 100 forex currency pairs, options, and futures on a variety of products; indices, metals, cereals, energy, and other commodities at its clients' disposal.
Thinkorswim is a leading platform when it comes to currency pair availability.
Charting
Highly sophisticated charting allows for full screen graph display to be used with advanced tools for drawing like cycle brackets and even Fibonacci spirals. And, if that is not enough, traders have the ability to perform many actions directly on the charts. These include placing orders or even setting alerts.
It has CNBC news compatibility, which allows showing news stories relevant to certain assets on a graph.
Available Tools
Besides charting, Thinkorswim allows for the placement of complex orders like trailing stop with and without limit, or you may schedule specific orders in certain times of trading days. Other tools available include watchlists, information on positions, and even CNBC live streaming.
Some of the most advanced tools on the market are available on Thinkorswim, including around 20 tools for drawing and 400 technical studies.
Automated Trading
Unfortunately, besides signals, the autotrade feature is reserved to subscribers of partner advisory newsletters.
Support Resources
Thinkorswim offers investor education and services for self-directed investors.
TD Ameritrade has an excellent teaching system for trading tools and analysis. Offering a range of investor education products in a variety of interactive delivery formats, including synchronized and asynchronous online instructor-led courses, in-person workshops, online and one-on-one training programs, chat and email.
Compatibility
Thinkorswim offers two different platforms for users to operate and another demo platform:
ThinkDesktop. New downloadable platform with a wide range of trading tools.
Web-based trading. A platform that does not need to be downloaded, with an internet connection you can operate with features very similar to ThinkDesktop.
Paper trading. Demo platform for users to get started in the world of financial markets or veterans who want to try new strategies
Besides a sophisticated browser and downloadable platform, the mobile app let you perform deep technical analyses with more than 180 studies accessible through smartphones; custom alerts are also available for the mobile app, allowing for real-time notifications regarding position changes for quick action. The iPhone and iPad reviews are among the market leaders averaging four stars.
Conclusion
In short, and to sum up everything, Thinkorswim is the most popular platform for Stock Exchange traders and, not to mention the most complete concerning functions and tools apart from the WebTradingview platform, it has a wide range of technical indicators and allows us to create our indicators and studies.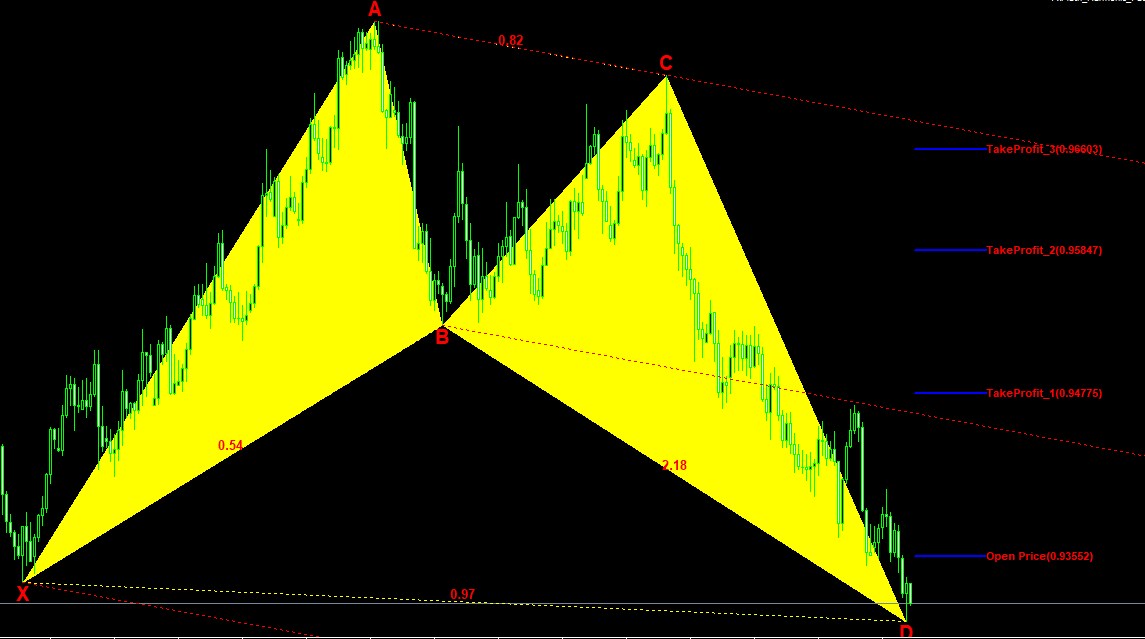 Comparison
Platform Comparison Maecenas porta rhoncus dui ut congue. Donec luctus non sem eu euismod. Ut rhoncus mauris non bibendum congue. Donec maximus ipsum a lectus sollicitudin.